Tuesday, March 10, 2009
LSA Flight Report: Cruiser In School Clothing
Mix all-aluminum construction, deep aviation manufacturing background and the desire to build a robust training aircraft, and what have you got? Eaglet!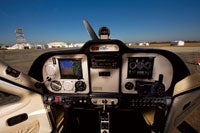 The cabin in the Eaglet, which cruises at 114 knots at 75% power, is a roomy 46 inches wide.
There are clear reasons for Eaglet's broad appeal and performance. First, it's an all-metal airplane; therefore, it's not as bump-twitchy as all-composite, non-flex-airframe birds can be in washboard chop.
Next, it's smooth but responsive: You can rack it over into a steep bank without bicep training on your home Bowflex—yet it's not sports-car zippy. You won't involuntary snap roll if you sneeze while holding the padded control stick.
Force resistance to control input is comfortably damped. It's also not spring-aided. What you feel is what the control surfaces feel aerodynamically. Set it up for long-reach, full-tank flights, and it'll fly straight and true until you politely but firmly request a change in attitude, or dinner before 7 p.m. Or as Michael Birmingham says, "I don't need an autopilot with this airplane. I just trim, then fingertip fly it."
The 6.5-inch AF-3400 glass avionics from Advanced Flight Systems can be configured as an engine monitor (top), which continuously monitors and displays engine data, or as a dual EFIS/map, which displays the standard "six-pack" instruments and derives position from a GPS signal (bottom).
Third, the pretty airplane is hardly a slowpoke. I poured the plunger to the 100-horse Rotax 912 ULS2/S (two throttles, center and left), trimmed up, and the Eaglet politely responded with 120 knots indicated, straight and level at full power. Airframe vibration levels were a wee noticeable but not out of conformity with the Rotax-powered LSA genome. The Eaglet felt solid and stable.
One thing Sebring 2009 demonstrated with gusto: The LSA industry has impressively matured in the short four years since the sport pilot rule was invoked. Many aircraft on display showed a level of sophistication, finish and functionality. Is this the "Change We Can Believe In" for general aviation? Hmmm.
On the ground, toe brakes are easy to use and work great, but you don't really need them for navigating the asphalt. I tried a tight rudder-only taxi turn that brought us right back onto our original line. Eaglet turns on the proverbial dime, nice for students and for plain old comfort. There's that word again.
As for good manners coming down the home stretch, Michael, a 30,000-hour pilot with lots of stick time under his weathered paws, let me shoot a couple landings on the slightly thermally Florida afternoon. He talked me down through the pattern and, though frankly bleary-eyed from working Sebring, I found landing the Eaglet to be a breeze. The strong spring-steel gear helped with that. Both descents ended with decently smooth touchdowns...let's use the word "nominal" to keep my hat size manageable.
And isn't that what you want in a training airplane—confidence that quickly grows from the first flight? Works for me.
Page 2 of 3