Tuesday, October 20, 2009
New Light Twin From Italy
Tecnam introduces a twin-Rotax-powered four-seater in the tradition of the Partenavia P68C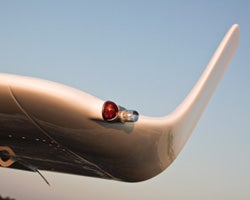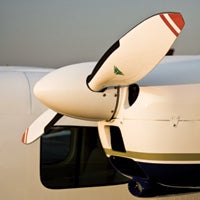 Most of the P2006T is constructed of pure aluminum, with the exception of the molded fiberglass winglets, which reduce stall to 47 knots. Tecnam's first twin-engine aircraft can seat up to four people and is powered by dual 100 hp Rotax 912S engines.
Fond du Lac, Wis., August 2, 2009:
This time, I'm second in line, in a manner of speaking. Thirty feet ahead and slightly to my right, a Skyhawk rotates off the asphalt of runway 36 and starts uphill at 65 knots, the rising sun directly behind it. I'm flying a twin, for Pete's sake, so I know I won't be able to hold formation with it in the climb.
Or will I? Photographer Jim Lawrence is leaning out the left window, looking eagerly back through the lens of his Canon, so I try a tentative pull on the yoke just to measure the airplane's response, already positive it's too slow to fly. To my amazement, the high-wing twin is smarter than I am. It comes off cleanly and begins to climb away, holding position nicely on the little Cessna ahead.
Fortunately, the lead pilot in this photo formation takeoff is reasonably savvy and keeps his climb rate low to give me a chance to gain speed. Still, I'm impressed that a twin could stay back with a light single on takeoff.
No, this isn't an Aero Commander or a Mitsubishi MU-2. And, no, it's not a Partenavia either, though it's probably about as close as you can come. Instead, it's the newest piston twin in the world, the Tecnam P2006T (
www.tecnamaircraft.com
), a design based heavily on those P68s I flew a quarter century ago.
For that reason, it was with more than the usual curiosity that I climbed aboard the new Italian twin at Fond du Lac after the Oshkosh show to evaluate the new airplane. Tecnam's P2006T has a strong resemblance to the Partenavia P68, and tha3t's more than coincidental: Both airplanes were designed by the same man, Professor Luigi Pascale.
In fact, the P2006T appears to be a near-perfect, scaled-down, retractable replica of the P68 (later renamed the Vulcanair). Tecnam is hardly new to the aircraft manufacturing business. Since 1992, the Italian company has produced some 2,500 single-engine airplanes, many of them LSA long before there was any such abbreviation.
The whole concept of offering a new twin seems almost heretical in this time of reducing production rates and shrinking budgets. The last new twin was the Diamond Twin Star (now referred to only as the DA42 because of a lawsuit by Aérospatiale). The P2006T is Tecnam's first twin-engine airplane. At first, Tecnam considered simply enlarging one of its existing two-seat singles to create a me-too, four-place airplane, but the company decided instead to offer the world's most economical certified twin, targeting the multi-engine training market.
Professor Pascale designed the P2006T to carry a maximum of four people and fly behind a pair of Rotax 912S engines, rated for 100 hp each. That wasn't his first choice to power the new twin. Concerned about the shrinking supply and availability of avgas, Pascale had hoped to mount a pair of German Thielert diesels on the wings (à la the aforementioned Diamond DA42), but Thielert's financial problems and eventual bankruptcy made that an unlikely possibility. Pascale also considered the French SMA engines and an all-new Italian diesel developed by the Fiat Research Center, but none of those were exactly right for the new Tecnam either.
Page 2 of 4