Tuesday, November 5, 2013
The New Old Classic
The Tecnam Echo Light is a new, no-frills version of a veteran fun flyer that won't bust the budget
It's a sidewalk-egg-frying, breath-gasping hot Southeastern U.S. day, and I've been photographing the brand-new Tecnam Echo Light out on the hot tarmac. I'm sweating like a budding comic about to come on after a killer set by Robin Williams, wondering if I'm up to making the demo flight. Then memory kicks in: This is a Tecnam. Relax. Every Tecnam I've flown (this will be my fourth model) has been a cupcake. Why should the Light be any different?
The Pleasures Of Tecnam
My host pilot is CFI Todd Kallenbach. I climb in, pleased as always with the comfy, attractively stitched (and adjustable) Tecnam seat. True, it's a no-frills, budget-conscious airplane that doesn't ooze the Ferrari-like luxury of the Italian company's P2008 cruiser or new Astore. You can spiff it up with cosmetics and digital avionics, but if your bottom line is cost, you'll appreciate the tidy, lightly populated analog panel for what it offers: good old recreational flying without "texting-while-driving" distractions.
Speaking of bottom line, this particular airplane costs $84,900 and includes a Garmin avionics suite: the Aera 500 GPS in a Gizmo docking mount, SL40 radio and GTX 327 transponder. Stripped down to an all-analog panel and no radios, that price drops to $75,000.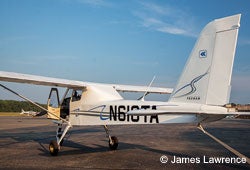 The Tecnam Echo Light is powered by an 80 hp Rotax 912UL and cruises at 92 knots.
Think about that: Here's a fully airworthy aluminum airframe (with some fabric covering) that comes ready to fly from a 68-year-old aviation manufacturer at a price only all-fabric, ultralight-style aircraft usually approach. Let's hear no more complaints about out-of-reach LSA prices.
The Echo Light airframe is rated at 1,102 pounds MTOW, 218 pounds less than the category's 1,320-pound ceiling. The engine: that unsung hero, the Rotax 912UL 80 hp, four-cylinder, four-stroke liquid-cooled mill, rather than the common 100 hp LSA variant. So naturally, I wonder: Will power performance suffer?
The airframe is all-aluminum, but ailerons and part of the tail group are fabric covered. Empty weight is a mere 606 pounds. Useful load is 496 pounds. Subtracting 11.9 gallons of fuel (right wing tank; a left wing tank is optional) leaves a 425-pound payload.
Page 1 of 4