Tuesday, November 5, 2013
The New Old Classic
The Tecnam Echo Light is a new, no-frills version of a veteran fun flyer that won't bust the budget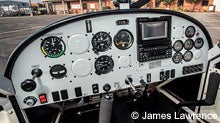 The tidy analog panel also features a Garmin Aero 500 GPS, an SL40 radio and a GTX 327 transponder.
That's still enough room for a couple of 200-pound passengers and not much more. But Echo Light is intended to be a value airplane, not a long-distance cruiser like the P2008. It's based on a 20-year proven design and offers low operating costs. In short: a born trainer/local funship.
And it has pedigree: 20 years after its first flight, the still-produced P92 Echo has 13 variants and versions, and 500 customizations. More than 2,000 units fly worldwide under ULM/LSA and VLA certification.
Born To Please
The dual throttle/dual stick setup and center-mount hand brake lever further support the training mission. Taxiing is a breeze, thanks to the good steerable nosewheel and strong hydraulic main wheel brakes. I feel dialed in, 100 feet down the taxiway.
I like the friction thumb lever right next to the push/pull (non-vernier) throttle; electric flaps with LED indicator; PTT button on top of the foam-padded, gooseneck (for leg ingress/egress) control stick; 44-inch wide cabin and outside air vents. There's even a 12-volt plug-in power socket. The Light may be no-frills, but it's a mature airframe in every way.
We close the door, take the active, toggle in a notch of flaps, and I push the knob to the metal. Ahhh, so nice: That 80 hp engine is definitely smoother than a 100 hp Rotax. Easing back the stick at 50 knots, we lift off more quickly than I expected. I level to pick up climb speed and feel the controls a bit, then start a cruise climb.
The pushrod-linked ailerons (partly cabled, but it has that no-slop pushrod feel) bank the wing with little adverse yaw. A touch of the big rudder is all you need to keep it kosher. Actual stick deflection forces aren't as light as, say, a Van's RV-12 or Remos GX, but control forces won't wear your arm out.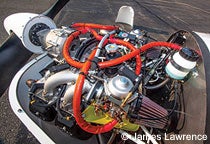 The Rotax 912UL delivers 80 hp.
The Cessna Of S-LSA?
Five years ago, I began my Tecnam Experience in the P92 Eaglet. I was in sport- pilot flight-training mode back home at the time, and the Eaglet seemed a perfect fit for my developing skills. That flight taught me three prime truths about Tecnam LSA. They're: 1. well-designed and engineered, 2. fly beautifully and 3. the build quality is as top notch as for the company's general aviation planes.
Tecnam has been an aviation mainstay in Italy since 1948. When light sport began in 2004, the company was good to go with in-production easily "Americanized" European microlight models. Its stable included the P2002 Sierra and P92 Echo, born in the 1990s.
Page 2 of 4