Tuesday, April 9, 2013
The Taildragger Reborn
All-metal airframe, side-by-side seating, 65-year-old GA company: classic!
"Proper-behaving airplanes is Tecnam's passion," Tommy Grimes, President of Tecnam North America, had told me earlier. "They all have the same feel: stick pressures, positive stability. They're hands-off airplanes that are a pleasure to fly. In flare, the size of the TD's vertical tail and rudder is just enormous, so it doesn't need a steerable tailwheel. Almost as soon as you power up, the rudder has full control, and off you go."
Ground viz forward is just fine: The deck angle seems less severe than a J3's. Fishtailing is always a good idea, though, for seeing what's ahead.
The roomy instrument panel is finished in a handsome, retro-style simulated-wood veneer. Our demo aircraft has the standard TD setup—a spray of analog round gauges and the Dynon D120 EFIS—but there's plenty of turf for more instrumentation.
I like the bend in the control sticks— makes for easy foot clearance during ingress/egress, since the TD is tallish. Rocker switches (Master, Avionics Master etc.) and fuses tidily parade left to right below the panel. In the middle of the console lie the carb heat knob and electric flap toggle.
Flap control is stepless, meaning you push down until you have the setting you want. Max flaps is 35 degrees, for real STOL-style flying. Nice.
Putting Grimes' comments to the test, I pour in the throttle. Indeed, rudder comes alive in a couple seconds, and we're off in short order. Climb rate is muscular behind the Lycoming—beyond 1,000 fpm (book is 1,200 to 1,100 with the Rotax). Decent right foot keeps things lined up (left foot for at-idle descents).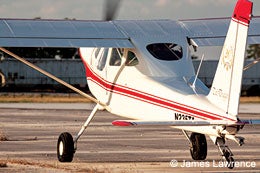 A swept tail and oval turtledeck window complete the retro look of the P92-TD.
We do a couple of stalls, clean and dirty, from slow flight and under near-full power. The TD's manners are impeccable: relax back pressure on the stick, feed in power as needed, but it's flying again in no time, with no significant wing-drop tendencies. The airplane handles well in the low-speed regime, and is smooth, firm and balanced in low- and high-bank turns at all speeds.
At 3,000 feet and 2,500 rpm, I see 110 knots indicated, or about 116 true. Book is 118, so we're right in the ballpark. The stick-top, electric push-button trim is excellent: not twitchy, just right. Throttle and mixture on the angled center console live right where you want them.
Setup for landing is nominal: approach at 60 knots, ease off to 55 across the fence, hold off and let her settle on. My landing is, however, far from the "settle on" variety: I chop throttle too abruptly with all 35 degrees of flaps in, and after a surprise sink-out and overcorrection, we do a good bounce-balloon impersonation of trampolining. The sturdy main gear absorbs my indiscretion admirably, though White helps out, and we're rolling for the turnoff soon enough. Clearly, student-style landings are no sweat in the TD.
Page 3 of 4