Tuesday, July 31, 2012
Sling 2: The Soul Of A Fighter
The new Sling LSA from South Africa has the world on a string
As if the company had anything left to prove, they developed a four-seat version of the Sling, calling it the "Sling 4," and flew it around the globe in July of 2011. This time Blyth and Pitman added Director and Production manager, Jean d'Assonville, who's an aeronautical engineer, designer, and pilot. Once again, the flight went famously, concluding with an arduous, non-stop leg from Brazil to Cape Town. The team had proven that the Sling handles just about anything.
As we continued our over-water jaunt to Catalina, Matt Liknaitzky had me try some maneuvers to showcase the Sling's handling qualities. Also from South Africa, Liknaitzky has a ready smile and uses the word "excellent" in various capacities. I like him instantly since he's a confirmed stick-and-rudder guy like me and owns his own Christen Eagle biplane that he uses for aerobatic competitions. We were enjoying all the sights and sensations that come with flying as he explained the plan for the Sling in the U.S. market.
"We plan to take the Aircraft Factory concept and expand it at Torrance Airport," explained Liknaitzky. "We plan on offering training, dealer support and, eventually, an entire assembly facility where we assemble the airplanes." The reaction to the Sling, says Liknaitzky, has been overwhelmingly positive. "People just love how it flies," he enthuses. I agree completely.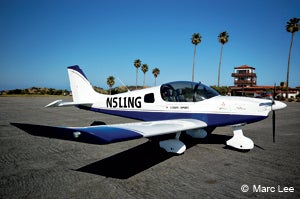 In place of toe or heel brakes, the Sling employs a lever on the quadrant next to the throttle.
The Sling has some quirks that stamp it as definitely not an American design. These oddities give the airplane personality, though they take some getting used to. I didn't like the flap switch. It's just a plain toggle switch that you have to hold up or down while either watching a diminutive graphic on the MGL Avionics display, or by craning your neck to look at the flaps themselves. A redesign might be just the ticket.
The Sling doesn't have toe—or heel—brakes. Instead, there's a lever on the quadrant next to the throttle. It takes some getting used to, though I have to admit I was accustomed to it by the time we landed back at John Wayne. I still found myself trying to press on the top of the pedals just like a car passenger pushing on what I call the "chicken brake" when they feel nervous.
The MGL Avionics EFIS was nice to work with. It, too, takes some getting used to, but the two EFIS displays contain all the information you need for situational awareness and navigation. It combines a PFD, MFD, engine monitor, fuel computer, GPS navigator, an autopilot and an interface for a multitude of other devices.
Plane & Pilot
editor Jessica Ambats laughed a bit when I gave her my reaction to the Sling. "Your favorite airplane is always the one you just flew!" she jibed. She had a point, but I realized that we live in a time when new aircraft designs are fantastic when compared to the stuff coming off the line back in the heyday of GA aircraft production after WWII. Today's aircraft are difficult to not like, though each has its own personality and allure. Still, this time was different. The Sling got to me more than any aircraft I've flown in the past several years. In fact, I contacted Liknaitzky just hours after our flight, asking him about the availability of the Sling for rental. Like an addict, I couldn't wait to get my Sling fix.
Proof of its appeal comes in the form of the Facebook groups, fan sites and blogs dedicated to the airplane. To say it puts "fun" into flying is a sort of neutered expression, because the word is applied to everything. People say running is "fun," and I can't stand it. So I'll just say that flying the Sling gives you an enormous feeling of pleasure and satisfaction. Its handling gets your heart racing with possibilities, while its capability and strength make it a practical airplane for "real" missions, like circumnavigating the globe with your best flying companion. I loved the airplane; no apologies needed.
For more details about the Sling LSA, visit
www.airplanefactory.com
.
Page 3 of 3