Tuesday, October 4, 2011
Hope Springs Eternal
A look at new single-pilot turbines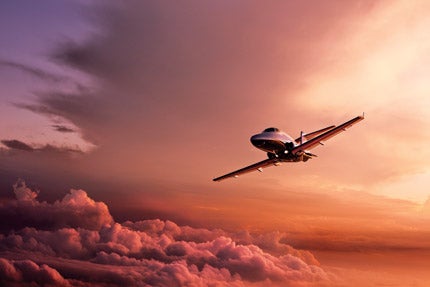 Diamond D-Jet
Among pilots, hope isn't the only thing that springs eternal; it's the next plane. Whether you dream of moving up, down, or sideways, there's sure to be some new offering to light your fire. And, if your fire involves a turbine, there are a lot of interesting products brewing. According to industry watcher and resident jet expert Cyrus Sigari, co-owner of JetAviva, "This is a dynamic market right now. We see renewed activity from business operators and owner-pilots wanting more capable small-turbine aircraft. New, efficient turbofan technology and single-engine economy drives a lot of that interest." With that thought in mind, here's a look at some interesting single-pilot jets and turboprop programs working their way to a market near you.
Category I: Nano-Micro-Very Light, Mostly Personal Jets
The good news for jet-pilot wannabes is that there are quite a few manufacturers, some new and some not so new, still eager to create a small jet with four to six seats at a price tag (mostly) below $3 million. Driven by the idea of a single engine and by new, efficient engine technologies, there are a lot of possibilities.

Yep, Eclipse is still around, though it's a completely reformulated company with new owners, a new name, a stronger partner and a new strategy.

Eclipse Aerospace EA-500
With apologies to Dan Hicks, you have to wonder, how can we miss them if they won't go away? Yep, Eclipse is still around, though it's a completely reformulated company with new owners, a new name, a strong partner and a new strategy. With Sikorsky Aircraft as a partner, and renamed Eclipse Aerospace, the company is on a completely new path. The first thing to go was the low price—a "new" refurbished and upgraded EA-500 jet will now set you back $2.15 million. Next, it reestablished support with service centers in Albuquerque, Chicago, Boca Raton and Istanbul. Finally, Eclipse is working on upgrades to bring all existing EA-500 jets up to the same standards and equipment. The 375-knot twin-engine EA-500 now comes with the Avio Integrated Flight Management System made by ISS. This WAAS-enabled package provides full flight management, chart display and weather-datalink capability. Current EA-500s are now fully deiced and ready to cruise up to FL410. About 60% of the 260 airplanes in the fleet have been upgraded at this time. The company is still on track to restart the production of new EA-500 jets in another year or so. Although costs still are being evaluated, the company hopes to reintroduce brand-new EA-500s at a price below $3 million. Contact:
www.eclipseaerospace.net
.
| | |
| --- | --- |
| Eclipse EA-500 | |
Piper Altaire
Aimed at owner-pilots and corporate users demanding more cost-effective executive aircraft, the new single engine from Piper promises to be among the most efficient jets in the sky. With a maximum certified ceiling of FL 350, the Altaire will operate above most weather. A Williams FJ44-3AP engine will produce a projected maximum speed of 360 ktas while burning only about 77 gph. Piper projects that at a long-range power setting, the Altaire will cruise 1,300 nm with NBAA-standard reserves.
The Altaire has a bigger cabin than the original Piper jet prototype (which was based on the Meridian fuselage), and features the latest Garmin G3000 avionics suite. Six seats and a number of interior trim options provide a first-class cabin experience. Options include a seventh seat, a lavatory or a closet. A heated nose compartment and rear cargo area in the cabin provide a total of 47 cubic feet of space that together can handle over 400 pounds of baggage. Trailing link gear, FADEC engine control and speed brakes, always popular with pilots, will be standard. Piper hasn't yet determined if anti-lock brakes will be standard or an option.
The Altaire program is currently in full swing with final design reviews in process, production tooling being fabricated and space at the Vero Beach factory undergoing refurbishment for production. Currently, the only aircraft flying is the proof-of-concept airplane, but plans include building five or six conforming aircraft. One will be used for static ground testing, and one dedicated to lifetime testing. The rest will go into the flight-test program. Piper says that the program is on track to deliver the first customer airplanes by late 2013 or early 2014, with a training partner soon to be announced. The current price is $2.5 million with a CPI price escalator. Piper currently has enough orders to fill the first three years of production. Contact:
www.piper.com
.
Page 1 of 5