Tuesday, October 4, 2011
Hope Springs Eternal
A look at new single-pilot turbines
| | |
| --- | --- |
| Cirrus SF50 Vision Jet | |
Cirrus SF50 Vision Jet
In 2006, Cirrus first began taking deposits on a vaguely specified single-engine personal jet. By the time a prototype was built, around 400 deposits were taken at a projected price of around $1.25 million. In 2008, the prototype had accumulated about 120 hours of flight time, and the price increased to about $1.55 million, which later jumped to $1.72 million. By early 2010, the program was put into suspended animation due to funding concerns. In June of this year, Cirrus Aircraft completed its sale to the China Aviation Industry General Aircraft (CAIGA), which is owned through a parent company by the People's Republic of China.
The SF50 Vision Jet is targeted at Cirrus owner-operators who want a simple, safe and cost-effective step-up jet aircraft. With a target cruise speed of 300 ktas and a maximum operating altitude of FL 280, five standard seats (two small jump seats are optional) and a Williams FJ33-5A engine, the aircraft is planned to have a maximum range of over 1400 nm at a long-range power setting. It will feature trailing link gear, differential steering, a fluid-deiced windshield with deice boots on the wings and tail and a ballistic parachute recovery system. The design has completed concept testing and preliminary design and safety reviews. The company estimates that the program is a third of the way to certification.
The new Cirrus owners and management team are currently looking at new financing options to bring the Vision Jet program back on line. First, they had to solve a unique problem due to the fact that Cirrus is now a Chinese company. Because Williams engines are derived from cruise-missile technology, the U.S. State Department issued ITAR export restrictions on the FJ33 engines, forcing Williams to impound the SF50 prototype. Cirrus just received word that the government has removed these restrictions, and that the aircraft and engines soon will be returned to the company. This will enable the resumption of flight testing as soon as funding issues are resolved. Cirrus estimates that with funding in hand, they could complete FAA certification in about three-and-a-half years. Contact
www.cirrusaircraft.com
.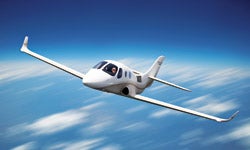 Oregon-based Stratos Aircraft expects to have a flying prototype of the Stratos 714 within two years. The all-composite jet is being designed to cruise at 400 knots, with a projected ceiling of FL 410, and a maximum range of 1,500 nm with reserves. The company recently completed scale-model wind-tunnel tests to verify aerodynamic performance.
Stratos 714
Based in Bend, Ore., Stratos Aircraft is aiming at performance-conscious owner-operators with the single-engine Stratos 714 jet. This sleek all-composite aircraft will offer speed and range that has, until now, been the domain of larger and much more expensive business jets.
Designed to cruise at 400 knots, the four-seat Stratos 714 boasts a maximum range of 1,500 nm with reserves. That means that any trip within the continental United States can be made with a single stop. Even against average head winds, a trip from Miami to Seattle would require less than seven flight hours. But what really sets the Stratos apart from other single-engine jets is its projected certified ceiling of FL 410. That's above almost all weather at an altitude where jets operate most efficiently.
To achieve such performance, Stratos Aircraft started with a clean-sheet design, optimized the aerodynamics and selected the Williams International FJ44-3AP engine. With 3,030 pounds of static thrust, the Stratos 714 has a higher thrust-to-weight ratio than any light jet, and yet the aircraft will safely land at much lower speeds than twin-engine jets with similar performance.
A set-and-forget environmental system, autopilot and single-lever FADEC-controlled engine minimize pilot workload. The cockpit features the latest glass avionics and side-stick controls. The seats and rudder pedals are adjustable, and cockpit visibility is excellent. At 4.7 feet wide by 4.8 feet high, the cabin is larger than many other aircraft in its class. There's even enough space for an optional fifth seat between the co-pilot and rear seats.
| | |
| --- | --- |
| Stratos 714 | |
Engineering is on track, having recently completed scale-model wind-tunnel tests to verify aerodynamic performance. Only a limited number of delivery positions remain at an initial price of $2 million. As with many of these programs, funding is a critical issue, but Stratos is hoping to have a first prototype flying in about two years. Contact
www.stratosaircraft.com
.
Page 3 of 5