Tuesday, October 4, 2011
Hope Springs Eternal
A look at new single-pilot turbines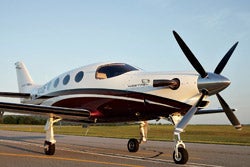 Kestrel
Category II: Turboprop Speedsters
The reports of the death of the turboprop are greatly exaggerated. Turboprops provide efficient power through the midlevel altitudes, and continue to power some of the most successful airplanes in history. Here's a look at what's happening with a few of the newer players.
Kestrel
Lead by aviation rock star Alan Klapmeier, the folks at Kestrel Aircraft Company are "really excited" to be working on a new, certified high-performance, single-engine turboprop. Once entwined with Epic Aircraft, the Kestrel design shares the same good looks as the Epic LT, however, it's a very different airplane. First, the Kestrel isn't a kit. It'll be a fully certified, all-composite aircraft, with a target maximum cruise speed of 325 ktas and a ceiling of FL 280. Power will come from a Honeywell TPE331-14GR turboprop engine capable of a thermodynamic output of about 1,800 shp but de-rated to 1,000 hp for consistent climb and high-altitude performance. Next, the cabin will feature six to eight seats with an enclosed lavatory in the rear. The cabin door will be behind the seats, so that passengers will enter through the lavatory/baggage area into the cabin. Kestrel is targeting a full-fuel range of 1300 nm at maximum cruise speed. The target price will be in the range of $2.8 million. Klapmeier believes that this new aircraft will grow the market, and his goal is to produce a lot of "very happy customers." As with any new aircraft development program, the big hurdle is funding. Klapmeier has assembled a very experienced staff, and sees no significant technical hurdles to the program, which should enable a milestone-based funding strategy. Once funding is secured, look for certification in about three years. Contact:
www.kestrel.aero
.
Daher-Socata
As a leader in the single-engine turboprop market with the very successful TBM 850, Daher-Socata is looking to expand its product line with a twin-turbine aircraft. At this time, they're looking internally at a new aircraft code named NTx for "new twin" with "x" seats. The company is tight lipped about details, but they're looking at a wide variety of options. One program being evaluated is the Grob SPn all-composite, 10-seat, Mach 0.7, long-range, twin-turbofan aircraft. Although flying prototypes were produced, the Grob SPn was never certified, and development was suspended when Grob Aerospace went out of business in 2008. Daher-Socata hasn't completed their evaluation, and isn't yet ready to make any announcements about future plans. Contact:
www.tbm850.com
.

As a leader in the single-engine turboprop market with the very successful TBM 850, Daher-Socata is looking to expand its product line with a twin-turbine aircraft.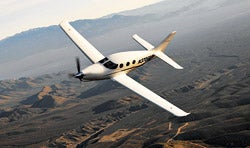 Epic Escape
Epic
In 2010, Epic rose out of bankruptcy with new ownership split between a group of former customers (LT Builders Group, LLC) and a state-owned Chinese investment company (China Aviation Industry General Aircraft Co. Ltd.). You heard that right—the same Chinese company that owns Cirrus also owns part of Epic. The company, managed by the Builders Group, has reopened the original factory and service center in Bend, Ore., and has been improving the core Epic LT product. This all-composite single-engine, pressurized turboprop homebuilt boasts a normal cruise speed of 305 to 310 ktas on only 50 gph. New improvements include cleaned-up aerodynamics, upgraded landing gear, a quieter cabin and much improved environmental controls. For a finished price tag of $1.9 million and some sweat equity, the Epic LT includes a factory-new PT6-67A engine, six seats, a glass cockpit and an extremely roomy cabin. Killer good looks are supplied at no extra charge. There are currently 32 LTs flying in the fleet.
Page 4 of 5