Tuesday, October 4, 2011
Hope Springs Eternal
A look at new single-pilot turbines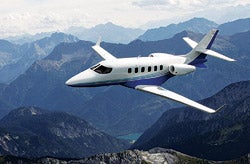 The all-composite, long-range Grob SPn is one of the aircraft being considered by Daher-Socata. Development of the Grob SPn was suspended when Grob Aerospace went out of business in 2008.
Epic also is working on rereleasing the Epic Escape. Slightly smaller than the LT, the Escape features a 1,000 hp Honeywell engine, six seats and considerably better performance numbers. Another bonus is that the airplane will fit in a standard 40-foot hangar. So far, only one Escape has been built, and the company is working to refine the design and performance numbers. The projected price will be $1.25 million with an overhauled engine.
At this time, the single-engine Victory jet prototype currently sits disassembled in a corner of the Bend factory, and Epic has suspended plans to develop a turbofan product. They've concluded that as a kit, jets present significant barriers so the company will focus on their core turboprop products going forward. Contact:
www.epicaircraft.com
.
So whether you're hoping for more speed, lower cost, simpler operation or a more efficient turbine experience, all you have to do is stand by to see what develops. In this business, hope does indeed spring eternal.
John Hayes is a retired entrepreneur with a Ph.D. in optical engineering. He has owned numerous airplanes including an Extra 300L, a TBM 700 and a Citation Mustang. He was a founder and past president of the TBMOPA and the Citation Jet Pilots owner-pilot associations. He's an instructor with an ATP, a couple of type ratings and more than 4,000 hours.
New Cessna Jet?
Rumors have run rampant about a new Citation ever since the CJ1+ vanished from the Cessna lineup earlier this year. The big question has been whether Cessna would introduce a Mustang II or a slightly "toned-down," less-pricey CJ1+ to fill the hole. By the time you read this, Cessna will have announced the new airplane, and we'll know for sure. Cessna has confirmed that the airplane will have seven to eight belted seats, a maximum speed of at least 400 ktas, an aft lavatory, G3000 avionics, at least 150-200 nm more range than a Mustang and a ceiling of FL 410. With a fuselage size closer to a CJ1+ than a Mustang, and with a price tag "a little over" $4.0 million, it sounds more like a CJ1+ replacement than the much rumored Mustang II. So, we'll have to see how Cessna names it to know what to call it and how it will be positioned. First customer deliveries are slated for late in 2013. Contact: www.cessna.com.
Page 5 of 5