Tuesday, February 5, 2008
Twin Commander 1000: The Ultimate Turbine Commander
The 1000 is the apex of the ultraluxurious Twin Commander line of corporate turboprops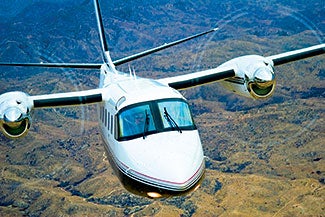 Ted Smith's airplanes were nothing if not impressive. His final design, the innovative, midwing Aerostar 600, was conceived in the late '60s. It's now, as it was then, the fastest piston-powered, normally aspirated machine in the sky. Its eventual upgrade and final successor, the pressurized Piper Aerostar 700P, was (not surprisingly) the world's fastest turbocharged airplane, scoring the magic 261 knots (300 mph) and running away from even many entry-level turboprops." />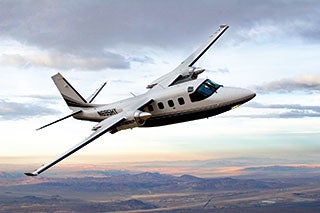 Obernolte's FarSight Studios designs primarily sports and casual video games for platforms such as the Xbox 360, PlayStation 3, Nintendo Wii and a variety of PC applications. The company's more popular 2007 games include Game Party, Backyard Football and Pinball Hall of Fame: The Williams Collection.
"We've probably produced 30 different games over the last 20 years, and airplanes have been an important ingredient in our success in this business," says Obernolte. "Our company airplanes have allowed us to be on site quickly to solve problems, often within a few hours of a call from a client about a problem with the software."
The FarSight executive got his flying start at an almost ridiculously young age. Both his grandfather and father were enthusiastic pilots, and Obernolte can remember riding in the back of Skyhawks at age five while his father taught stalls to students up front. "I have vague memories of Dad telling a nervous student to look in the back seat during stall practice, and I'd usually be asleep," laughs Obernolte.
"Dad took me up to near solo, and that's when Mom put her foot down. I had to wait several more years until I went to Cal Tech in Pasadena to earn my pilot's license with the college flying club." Obernolte went on to earn an instrument rating and purchased his first airplane, a Glasair I, shortly after graduating from college with a master's degree in artificial intelligence. He subsequently traded the Glasair I for a 300 hp Glasair III, buying the hotrod III from jazz saxophonist Kenny G.
"After college, I got married and we started having kids, so a two-seat airplane was no longer practical. Problem was, a Glasair III was a tough airplane to transition out of: It really was an exciting airplane to fly, with great handling and plenty of speed. I didn't want to step down in performance—the Glasair cruised at nearly 220 knots," Jay explains. "As a result, I bought a 1984 Aerostar 700P and absolutely loved it. It was something like a certified Glasair twin with more seats. The Aerostar was a great performer, probably the best handling asymmetrical-thrust twin in the sky, but of course, it was still a piston machine with all the inherent reliability considerations, and it had only six usable seats."
Page 2 of 4