Tuesday, February 5, 2008
Twin Commander 1000: The Ultimate Turbine Commander
The 1000 is the apex of the ultraluxurious Twin Commander line of corporate turboprops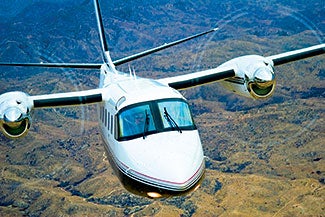 Ted Smith's airplanes were nothing if not impressive. His final design, the innovative, midwing Aerostar 600, was conceived in the late '60s. It's now, as it was then, the fastest piston-powered, normally aspirated machine in the sky. Its eventual upgrade and final successor, the pressurized Piper Aerostar 700P, was (not surprisingly) the world's fastest turbocharged airplane, scoring the magic 261 knots (300 mph) and running away from even many entry-level turboprops." />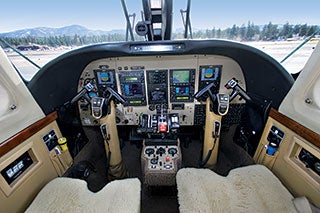 Obernolte was looking to step up to a turbine, and he did extensive research before giving up his Aerostar. "I evaluated practically everything available, from Cheyennes, Merlins, Conquests to King Airs, but nothing quite fit what I had in mind," he comments. "I even considered a Cessna Citation CJ1 jet, but it wouldn't have been practical for summer operation out of Big Bear. Support was a major factor in our decision, and when the Twin Commander 1000 became available in '04, I jumped at the chance to own the top of the Commander turboprop line."
Obernolte focused his attention on a Twin Commander for several reasons, most having to do with practical considerations of loading, speed, range, short-field capability and payload. "I've always liked Ted Smith's designs. He was something of a maverick, and all his airplanes place the cockpit out in front of the engines. I really enjoy the improved visibility provided by the more forward seating position. I also appreciate the idea of a forward-boarding door, so the pilot can be the last one in and the one to close the door, then not have to thread his way forward through five or six passengers to the front office."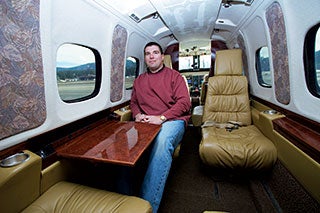 Obernolte also favored the Twin Commander's large external baggage compartment that allowed stowing most of the bags outside the passenger cabin, again similar to the Aerostar's aft cargo compartment. "With those big 820 shp, Garrett TPE-331 engines, the huge, nine-seat cabin and all the other benefits, the 1000 was exactly the right airplane for us," Obernolte explains.
Perhaps the major benefit of FarSight's Twin Commander is its flexibility, facilitated by an avionics suite that's both sophisticated and easy to manage. With the Meggitt avionics system installed, Obernolte's corporate transport is as talented as most airliners. The dual PFD/MFD Magic EFIS screens and the Meggitt 2100 Digital Autopilot provide confidence at all RVSM altitudes where the FAA requires the airplane to be flown on autopilot.
Obernolte and many of his 23 employees regularly utilize the big turboprop for trips as short as 70 nm to Orange County or Van Nuys Airports. FarSight's missions often demand meetings with clients at various locations around the Los Angeles Basin, and meeting a schedule while contending with the L.A. freeway system using automobiles would be nearly impossible. The company has clients in the Bay Area, Seattle and at other places all over the States, and the Twin Commander also makes those trips far easier and sometimes quicker than on the airlines.
Page 3 of 4