Tuesday, September 3, 2013
Full-Metal Funship
There's a reason the RV-12, and all Van's Aircraft designs, sell like hotcakes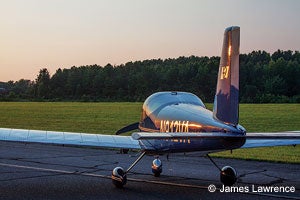 The all metal LSA RV-12 is available as a kit or ready to fly.
Exhibit B: When Van's announced the S-LSA Signature Edition of the RV-12 last year, priced at $115,000 complete, the initial run of 12 aircraft sold out overnight, leaving another 50 disappointed buyers standing in the rain with ink dripping from the checks in their outstretched hands. Alright, I'm making the rain part up, but there was a huge surge of excitement for the S-LSA version.
So, what makes the RV brand so appealing? Where do I start? The RV-12 capitalizes on the pedigree: It's good looking, all metal, has a low wing and one-piece bubble canopy for excellent visibility, and is easy and really, really enjoyable to fly. It's also got that GA appeal of venerable designs like the Grumman Tiger, Thorp homebuilts, Piper Cherokee and other low-wing mainstays.
The RV-12 represents Van's 39 years of engineering, design evolution and manufacturing. The complete kits are legendary for their precision fit and easy construction. All metal parts are formed and prepunched with fastener holes, and all hardware is included. The kit is optimized for fast building. How fast? An inexperienced builder can knock out an RV-12, says Mitch Lock, in 800 to 900 hours. He built his in 555, but he had danced the builder's dance before.
All components—engine mount, instrument panel, fuel system, landing gear and airframe—are prefabbed. "Simple hand tools" are all you need, says the website, and Lock concurs. What's missing? Only paint and fluids.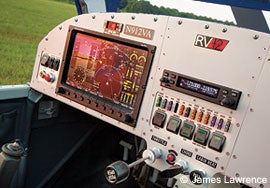 The brand-new Garmin GTR 200 Comm radio adorns a tidy panel headlined by a Dynon SkyView.
The S-LSA RV-12 capitalizes on Van's deep design and manufacturing experience. There have been eight RV models produced to date. Some of 12's cool features include five-minute, two-person removable wings for trailering or storage in small spaces; a lovely, ground-adjustable two-blade composite prop from Sensenich; the proven and ubiquitous Rotax 912ULS 100 hp engine that burns auto gas or 100LL; and a low empty weight of 740 pounds. For a worthy useful load (580 pounds), that's not that common among LSA.
That 580 pounds translates to two 210-pounders, full fuel and room for 50 pounds baggage.
A quick word about the removable wings. Pulling two pins behind the thick, comfortable seats is all it takes. All control linkages and wiring connections are automatic, and for us forgetful multitaskers, there's a magnetic ignition fail-safe interlock: If the wings aren't installed properly, the engine won't start.
Mitch Lock's RV-12, built from the E-LSA kit, has all the factory options: ADS-B module, lighting package with position and landing lights (steady or pulse option); two-axis autopilot; wheel fairings; and an attractive interior package that includes carpets and sidewall covers.
Page 2 of 4