Thursday, May 1, 2008
Capt. Dale "Snort" Snodgrass
Gaining Positional Advantage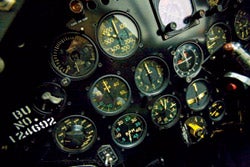 During his air show routine, Snodgrass glides down at max continuous climb power, reaching indicated air speeds of 350 knots.
Snodgrass' typical Corsair air show routine, similar to his Mustang performance, commences with an air start "at 3,000 or 4,000 feet [AGL]," Snodgrass says. "I glide down at max continuous climb power and reach indicated air speeds of about 340 to 350 knots. Then I'll pull to vertical and I'll just drive on what we call the vertical up line—I'll get to about 4,500 feet."
This attention-grabbing intro leads into a sequence including loops, rolls, Cuban 8s and vertical dives and pulls, demonstrating the Corsair's power, speed and maneuverability. As in his military days, Snodgrass is still a flashy performer.
For the past seven years, Snodgrass has also been flying a North American F-86 Sabre on the air show circuit. The simple swept wings and the compact size of this early transonic fighter bring back memories of the Cold War and air-to-surface engagements against Godzilla.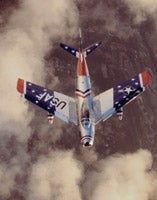 "The F-86 is, as a pure airplane, one of the nicest I've ever flown," Snodgrass asserts. "It has wonderful flying qualities and no bad habits, plus the controls are very light. When you sit in it, you know you're in a fighter."
After searching for a newer model, Snodgrass reached an agreement with the Cavanaugh Flight Museum (read "
Cavanaugh's Flight Through Time
")
in Addison, Texas, to use its F-86 Canadair Sabre Mark 6 (designated as a CL-13 and made under license from North American). The Canadair Sabre has an Avro Canada Orenda turbojet engine, developing 7,200 pounds of thrust, in place of the 5,200-pound thrust General Electric J47-GE-13 used in the F-86A. "In my opinion, it's probably the ultimate F-86," Snodgrass says of the Canadair Sabre.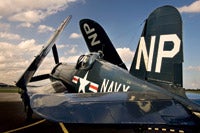 Even as he continues his air show career, Snodgrass is positioning himself to move into the worlds of cyberspace and television. His American Topgun Productions (ATG,
www.americantopguns.com
) is developing American Topgun Challenge computer simulation games with Microsoft that will enable virtual pilots to compete in a series of air combat challenges, based on real-world carrier operations. ATG is also developing a reality TV show, a celebrity dogfighting competition Snodgrass describes as "a cross between Survivor and Dancing With The Stars." And down the road, winners of sim games might get to compete in the reality TV show.
"It helps out the air show," Snodgrass adds, "so it's a very cool way of tying all of these different spaces together homogeneously and symbiotically."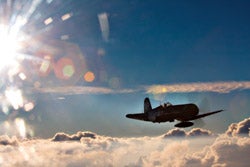 The Corsair is ready. This end of the airport is always quiet, but somehow a small knot of onlookers has materialized to ogle the warbird. After a walk-around inspection, Snodgrass hoists himself up the side of the fuselage and into the cockpit. With a roar and a lot of smoke, the big prop starts swinging, wings still folded. The golden glow of the late-afternoon sun catches Snodgrass in his perch atop the hulking machine. Any aviator would have to wonder: Could there be any better position to be in?
Page 4 of 4