Tuesday, September 7, 2010
Step Up To The Super
Yes, it is a NEW airplane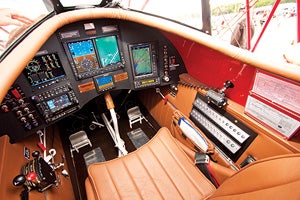 The modern panel includes a JPI EDM-930 engine analyzer, Garmin G600, Garmin GNS 430 and an L-3 Trilogy standby instrument.
Waco's sister company in Battle Creek, Centennial Air Service, may be able to pick up the slack if demand diminishes. The hope is that the renovation business might be able to absorb any reasonable slowdown and provide a buffer against layoffs.
The engine remains the original Jacobs R-755 seven-cylinder radial, though it has been upgraded to an A2M configuration, boosting horsepower from 275 to 300 (at 2,200 rpm). The prop is now a German MT, elliptical-tip design, a fixed-pitch tractor made of wood rather than MT's more conventional composite material, and it's lighter and more efficient than the Sensenich it replaces. The new prop features the same diameter—92 inches—but with a 60-inch pitch rather than the previous blades' 68-inch camber. The result is better cruise and improved climb, a seeming contradiction in terms. An all-metal, constant-speed, 93-inch-diameter Hamilton Standard 2B20 is an option.
These days, the STC for all things Jacobs is owned by Air Repair Inc. of Cleveland, Miss. Air Repair produces a variety of overhauled round mills—Jacobs, Continental and Lycoming—for a number of pre- and post-WWII airplanes. Air Repair still maintains the Waco engine and recently completed a top-to-bottom update on the Shaky Jake.
TBO on the Jacobs R-755-A2 is 1,400 hours, a tribute to the fact that the new engine incorporates much more than a few improved metal pieces. Overhaul interval on the original engine back in the '30s was more like 1,000 hours. Air Repair looked at all components and modernized and improved everything that made sense without excessive production incorporation costs.
More horsepower wasn't the only improvement in the move from the 5C to the 5D. Out in front of the firewall, in addition to the new prop, there's upgraded battery capacity, an improved oil cooler, upgraded magnetos and an Air Wolf oil filter system.
On the panel, Waco installed a JPI EDM-930 color engine analyzer that offers an electronic readout of all engine instruments in a single digital gauge. The company also installs a Garmin G600 system, a WAAS-enabled Garmin GNS 430, a Garmin GPSMAP 696 and an L-3 Trilogy standby instrument that displays attitude, altitude and airspeed. The panel itself has been redesigned with improved vibration dampeners. Digital avionics are especially popular on the Waco, not only because of their more efficient, modern presentation but also because digital avionics aren't susceptible to tumbling from aerobatics.
There's an improved landing-gear design; LED landing, taxi and position lights; and a new circuit-breaker panel and location. Plus front cockpit brakes are now standard, and there are about 20 other improvements we don't have space to list. The modern Waco may look pretty much the same as the antique model, but as mentioned above, there are literally hundreds of improvements under the skin.
Page 2 of 4