Tuesday, July 8, 2014
Cruising In Zenith's Cruzer
Zenith produces a high-performance version of its popular STOL LSA
When the FAA approved the LSA concept at Sun 'n Fun in April 2005, many pilots saw it as an opportunity to get back into the sky at a price that wouldn't bust the family budget. LSA were promised at prices as low as $50,000, but many of the LSA introduced to the market in fact sold for more than $100,000. For its part, parent company Zenair of Midland, Ontario, Canada, and Zenith Aircraft, its U.S. subsidiary in Mexico, Mo., continue to produce a line of LSA that can easily undercut the $100,000 price barrier.
Zenair has been in business since 1974, and founder Chris Heintz is responsible for some 20 homebuilt designs, everything from a sexy low-wing design (the 601 XL) to the utility high-wing STOL CH 750 and the four-seat CH 801.
Zenith Aircraft was established to serve the burgeoning American homebuilt market in 1992, and Chris' son, Sebastien, is the CEO of the U.S. company. The various models of Zenith aircraft are also popular overseas, especially in Europe and Africa where there are hundreds in service. In total, there are nearly 30 Zenair dealers around the world, with the largest concentration of Zenith aircraft in Europe.
Zenair models have built a reputation as tough little designs that can be employed as everything from crop-dusters and mini-freighters (the aft baggage area is huge for an LSA) to all-around utility airplanes. It seems owners never run out of applications for Chris Heintz's innovative new designs.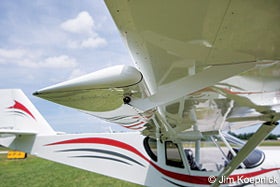 The Cruzer is designed for a stall speed of just 39 mph and can take off and land in 350 feet.
The all-metal CH 750 Cruzer is Heintz's latest brainchild, intended to expand the company's product line to include a slightly faster airplane. While the designation remains the same, the new machine has a very different mission than the previous STOL CH 750 version. The earlier model was designed primarily for operation from short, unimproved grass and dirt runways (or non-runways), whereas the Cruzer model, as the name suggests, is intended for better cruise performance and flights from smooth, paved runways.

To that end, the Cruzer flies behind a UL350iS engine, good for 130 hp on the test airplane. You can take your pick of a variety of engines to power the Cruzer, everything from a 90 hp Rotax (at the bottom power range), Lycoming or Continental to a Jabiru, Corvair, Viking (Honda) or UL at the top (130 hp). Installed engine weight can be as much as 280 pounds. The Cruzer features axi-symmetric (an aerodynamic buzzword meaning "circular") air inlets for cooling air.

The Cruzer's wings are attached with a single strut running from mid-span to the bottom fuselage, and the tail sports a cleaner, narrower horizontal stabilizer with a conventional horizontal and an elevator, rather than the stabilator used on the STOL CH 750 model with a conventional vertical stabilizer and rudder rather than an all flying vertical stab.

Page 1 of 3