Tuesday, November 1, 2005
American Champion High Country Explorer
The newly certified, go-anywhere two-seater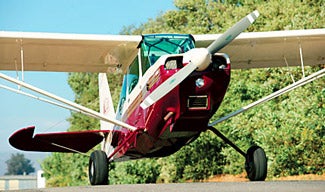 By the time you read this, I will have completed a two-week vacation trip circumnavigating most of Alaska and some of Western Siberia with an Indiana dentist, Dr. Bill Grider. (Hey, it's a tough job, but...) Alaska is my kind of place, and despite a dozen trips around the state, I'm always eager to return. " />
Thirty years on, Jerry Mehlhaff, current owner of the Champion line [now renamed American Champion Aircraft Corporation (ACAC) and based in Rochester, Wis.], has come out with a third-generation improvement on the basic Champ, dedicated to backwoods operation and certified last June as the company's latest model, the High Country Explorer. Like all of Mehlhaff's previous models since he purchased the company in 1992, the new 7GCBC incorporates a metal-wing structure rather than the older wooden spars. The latter was sometimes subject to cracks, and Mehlhaff's aluminum spars obviously eliminated those problems on new airplanes. (More than coincidentally, the metal-wing structure also imparts a higher gross weight, 1,800 pounds versus 1,650 pounds on the wood-wing Citabrias.)
The new model sports exactly double the horsepower of the original, along with enough other improvements to put it several steps ahead of almost everything else in the ACAC line except the Super Decathlon. Mehlhaff feels that the High Country Explorer fills the gap between ACAC's standard 160 hp Explorer and the 180 hp Scout.
Doug Dullenkopf of Screaming Eagle Aviation in Santa Paula, Calif., is our resident ACAC dealer. Dullenkopf has been selling Champion products since 1972, right after the type became Bellancas, so he knows more about the Champion line than anyone else I can think of.
It was no big surprise that Dullenkopf had dibs on the first of the High Country Explorers, and he invited me up for a day of fun and games in the new model shortly after its delivery in July. The standard, tandem-seating configuration used on all ACAC airplanes means that there's plenty of room for practically anyone. Head and leg space is copious, and elbow room is plentiful since you're not sharing the seat with anyone. While it's true that the tandem arrangement means less horizontal panel space, the airplane still can be certified IFR and carry full gyros, a transponder and a Garmin VHF and GPS. ACAC even installs a radio master in recognition of possible multiple radios.
The new model 7GCBC combines existing components of ACAC airplanes plus a few new tricks, making this a slightly different machine from anything else in the company line. The wing is essentially the standard semi-Hershey-bar model-7 airfoil rather than the model 8's symmetrical section. The landing gear is basically the same as the Citabria's, except it's now made of aluminum, reconfigured to stand an inch taller. The gear also now encloses the brake line, instead of clamping it to the trailing edge of the leg. Not insignificantly, the use of aluminum reduces the weight by about 13 pounds.
Page 2 of 5