Thursday, September 1, 2005
Flying With Floats
There are a whole lot more places to land when your airplane can get wet

You ready for your check ride?" asks Tom Brady of Traverse Air nonchalantly. What the heck is he talking about? That was only my second flight! My mind raced with the implications of a check ride and the possibility of failure. I think I'm getting the skills of flying a floatplane on and off the water, but how can I be proficient enough to take a check ride already?" />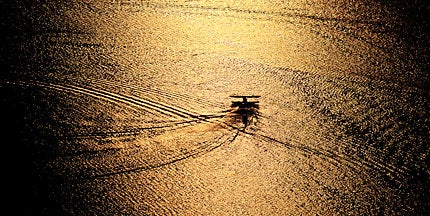 You ready for your check ride?" asks Tom Brady of Traverse Air nonchalantly. What the heck is he talking about? That was only my second flight! My mind raced with the implications of a check ride and the possibility of failure. I think I'm getting the skills of flying a floatplane on and off the water, but how can I be proficient enough to take a check ride already?

"Well, I wouldn't mind another flight to practice what we've done," I reply.

Flying a floatplane is deceptively easy to learn, but there are dangers that lurk just below the surface. The trick to flying a floatplane, of course, is learning how to get only the airplane wet. Fortunately, there are a few simple rules.
Brady will be happy to let you in on the secrets. He operates out of Traverse City, Mich. During the summer, he teaches pilots how to fly on floats, and in the winter, he uses the same airplane, a Piper Super Cruiser, to teach flying on skis.

Brady says, "Our typical student will take about a day and a half to complete their check ride. We offer a flat rate for five hours of instruction and the exam. Most folks don't have any trouble at all. It's fairly simple; all you do is take off, land, taxi and sail. There isn't that much that is different."

A seaplane rating is a simple add-on to your current pilot certificate. The FAA doesn't require a written test, and the oral is usually limited to the seaplane differences. For example, did you know the rotating beacon for a seaplane base is yellow and white? Besides learning a new skill, you also can pass the biennial flight review requirement by getting the new rating. If you live near the water, there's probably a floatplane checkout program near you. Washington state, Michigan and Florida host more than their fair share, probably because they have more water than the rest of the Lower 48 states. You can put together a multitude of reasons to justify a seaplane rating, but the bottom line is that it's fun. Just imagine flying in and landing on a deserted lake, fishing for a while or just hanging out.

Page 1 of 4