Tuesday, June 23, 2009
Remembering Aviation
We often have to see through the eyes of an outsider to appreciate what we have
It's interesting how we can become so close to aviation that, even though it's fueled by passion, it takes a "civilian" to point out what a great privilege and joy it is to fly.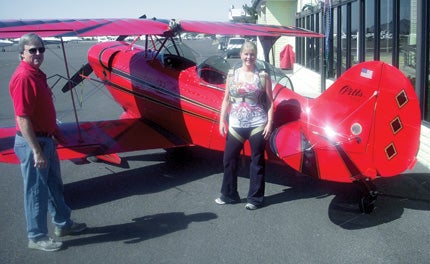 A lot of us instructor types spend four or more hours a day in a cockpit, but we really don't do much flying—mostly we're riding and talking. And even when we're actually on the controls, we're doing it for a very specific reason. We're trying to pass along some hypersubtle bit of minutia that may be insignificant to a civilian, but is of vital importance to a student. For example, when Aunt Edna is in the airplane, she really doesn't care whether the ball is centered or not, but students hear about it constantly (or should). The net result is that we get so preoccupied with what we're doing—teaching—that we forget we're flying. Enter last Saturday morning's Christmas ride.
Okay, so Christmas is long past, but it took nearly six months to schedule this gift-certificate ride. I was to take a wife for her first little-airplane ride, which in my case, really is a "little airplane."
Shannon was the young mother of three very cute kids and the wife of an obviously adoring husband. These factors always make me aware of the responsibility I'm shouldering on these flights, so I'm extra careful. From the beginning, it was easy to tell that she was really into what we were about to do. She wasn't exactly an adrenaline junkie, but she was eager for a new experience, and an open-cockpit ride in a tiny biplane is, for just about everyone, a very new experience.
Getting her into the airplane proved to be a no-brainer because she followed directions exactly and was athletic enough to make hopping into the front hole look easy. (This is definitely not usually the case.) And as we saddled up, she was asking questions and actually listening to the answers, so I knew I had a live one. As I settled into the back hole and strapped in, I suddenly realized I was starting to enjoy this, which, again, isn't always the case.
A few minutes later, I was doing my usual going-for-a-ride-with-a-civilian spiel about takeoff: "…then the noise will get really loud, and I'll pick the tail up and…" Just before I brought the power up, she said, "I was nervous, but I've really been looking forward to this." I could feel her grin over the intercom. I was giving her a new experience and she was loving it, which put an entirely different spin on what I did from that point on.
Page 1 of 2