Tuesday, July 14, 2009
The Big Blue World: Evektor Sportstar SL
The Evektor SportStar SL is friendly to fly, sturdy, beautiful and roomy—and what a view!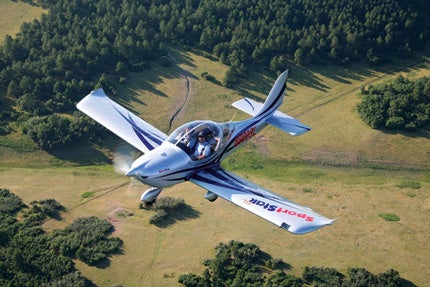 Photo By: Mitch Bowers
Below, the greening, lake-dotted checkerboard of central Florida stretches in every direction. It's a beautiful day to be flying a beautiful bird. Color me happy!
But it's the view overhead that has my attention right now. Cruising out from our afternoon takeoff from Sebring Airport, it feels like someone tossed us up into a big blue fishbowl. I ease the center-mounted stick left, and the Evektor SportStar responds like it read my mind. This is "dreamflight."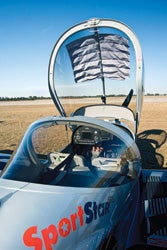 Throttling up the Rotax 912 ULS and easing back on the stick, the SportStar climbs creamy smooth, with pitch pressures light as whipped butter. The super-sensitive electric trim button on top of the stick makes adjusting pitch quick and easy.
Rolls left and right, slow flight, approach and departure stalls—oh yeah. The SportStar couldn't be more solid—or more responsive. Stick and pedal feedback? Ditto. Controls are light yet not oversensitive. What more can you ask of a recreational airplane?
Every sky bird has its own personality, and Evektor's SportStar SL is no wallflower. I'll remember it most for the comfortable, light but balanced control feel, near-top-of-class performance (110-knot cruise, 45-knot clean stall) and clean, friendly curves.
But that open-sky fishbowl feel, courtesy of the clear, bulbous canopy, comes back to me now. You don't get that sensation in even the most generously windowed high-wing aircraft. Not to knock high-wingers, but airplanes like this one deliver the same visceral context as skinny-dipping at a country pond: Yep, a little exposed, a little daring, but way cool. You become a part of the sky.
Page 1 of 4