Tuesday, July 7, 2009
August 2009 NOTAMS
Plane & Pilot's guide to aviation's most current promotional deals
From free training to discounts and rebates, this is the place to find great promotional deals from the aviation industry's leading companies. Be sure to check this page every month for the latest offers.
Make Your Dollar Go Farther

Via website donations that will go to one of two organizations, ASA continues its ongoing commitment to supporting GA. ASA is donating 5% of individual total order amounts to either the EAA Young Eagles or the AOPA Air Safety Foundation. During checkout, online shoppers will be prompted to select the organization that will receive the donation. It's completely voluntary and doesn't add to the cost of the order.
For more information, contact: ASA, (800) ASA-2FLY, www.asa2fly.com.

Free Gift With Bike Purchase
P&P
readers qualify for a package deal from Montague Bikes: Order any 2009 Montague SwissBike TX, LX or XO directly from the company and get a free set of folding pedals and kickstand (a $54.90 value). This offer applies to Montague factory-direct orders only and isn't offered by Montague dealers. Please mention promotion code "DW038" when placing your order. (This offer is valid while supplies last.)
For more information, contact: Montague Bikes, (800) 736-5348, www.swissbike.com.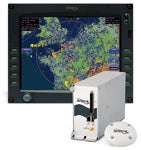 Save On Avidyne's MLX770
Avidyne's new MLX770 delivers aviation-quality weather data (via the Iridium Satellite Network) for display on Avidyne's Entegra and EX500/EX5000-series MFDs. The MLX770 Two-Way Datalink Transceiver's promotional price is $9,990; it comes with an antenna and two years or 200 hours of free weather data service (whichever comes first). Those who purchase a MLX770 can upgrade to the MLX780 for only $2,000 when it becomes available later this year.
For more information, contact: Avidyne, (800) AVIDYNE, www.avidyne.com.
$1 Overnight Shipping
Tropic Aero offers $1 overnight shipping on select portable aviation electronics—including Zaon's PCAS XRX collision-avoidance system, Lightspeed's Zulu ANR headset and Garmin GPSMAP aviation units—for
P&P
readers. Visit www.tropicaero.com/pandp to view qualified electronics (be sure to enter coupon code "PANDP" during checkout).
For more information, contact: Tropic Aero, (888) 280-9272, www.tropicaero.com.
Page 1 of 2