Thursday, June 11, 2009
July 2009 NOTAMS
Plane & Pilot's Guide to aviation's most current promotional deals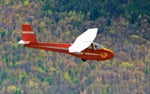 New Emergency Landing Training With Big Savings
The Elmira Soaring School offers an emergency landing course for powered pilots that's designed to increase survivability in the event of engine failure. The two-day program includes three hours of ground instruction and seven flights (using the school's Schweizer 2-33 gliders) covering procedures and techniques for executing an emergency pattern and landing. For July and August, the special introductory price is $599.
For more information, contact: Wings of Eagles Discovery Center, (607) 739-8200, www.wingsofeagles.com/soaringschool.cfm.
PS Engineering Offers $400 Savings

PS Engineering announces a price reduction for the popular PMA7000B Audio Control Panel with integrated marker beacon receiver. Starting this spring, the list price was decreased by $400 to $1,595. With this savings, PS Engineering makes an already affordable upgrade even more affordable.
For more information, contact: PS Engineering, (800) ICS-AERO, www.ps-engineering.com.
$5,000 Garmin G600 Retrofit Rebate
Purchase a Garmin G600 and receive $5,000 via mail-in rebate. This offer is valid for purchases made between April 21, 2009, and June 20, 2009. Rebate submissions must be postmarked by July 15, 2009. Limit two rebates per customer. To qualify for this rebate, please complete the steps on the coupon at the website below.
For more information, contact: Garmin, This e-mail address is being protected from spambots. You need JavaScript enabled to view it , www8.garmin.com/whatsNew/currentpromotions.
Free AV8OR Update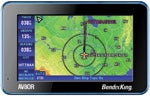 Version 1.04 (MSRP $49), the latest AV8OR update, can now be downloaded for free. For a limited time, it's available at no cost at Wingman Services (
www.bendixking.com/wingman/av8or/Av8orHome.jsp
). Highlights of Version 1.04 include, among other features, Smart Profile view with obstacles, traffic interface to the Zaon PCAS XRX, new weather products (graphical PIREPs, TFRs and lightning), weather overlays on the map page and improved text viewing.
For more information, contact: Bendix/King, (800) 601-3099, www.bendixking.com/AV8OR.
Page 1 of 2