Tuesday, April 7, 2009
May 2009 NOTAMS
Plane & Pilot's Guide To Aviation's most current Promotional Deals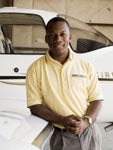 Aviation Scholarship & Free Tutoring
Tutor.com, an online homework help and tutoring service, has partnered with Careers in Aviation and Jamail Larkins' nationwide Dream Launch Tour to educate students about aviation career opportunities. Tutor.com is offering 50 minutes of free online math and science tutoring, and is giving away one $1,000 scholarship to a qualified middle or high school student. Applications (due October 2, 2009) can be found at
www.careersinaviation.org
.
For more information, contact:
Tutor.com, (800) 411-1970,
www.tutor.com
.

ATP Opens New Centers & Lowers Prices
Over the next few months, Airline Transport Professionals (ATP) is opening five new training centers across the country. Also, ATP has reduced its prices by as much as 20% for all of its accelerated, multi-engine flight-training programs. More pilots go to ATP for their multi-engine ratings and ATP certificates than to any other U.S. flight school or academy.
For more information, contact:
Airline Transport Professionals, (800) 255-2877,
www.atpflightschool.com
.

Save Up To $500
Oregon Aero is offering up to $500 off (with financing available) through May 31 for its "VK Smart Cushion Upgrade," a highly engineered, handmade, custom seat-cushion system for production, homebuilt or other aircraft. Oregon Aero offers 100% guaranteed satisfaction. The U.S.-made cushion meets FAA specifications to offer the ultimate in flying comfort.
For more information, contact:
Oregon Aero, (800) 888-6910,
www.oregonaero.com
.

Free Learn To Fly E-Book
Many people express the desire to learn to fly, yet few take the steps needed to actually become a pilot. For those looking in from the outside, aviation can seem intimidating with its unique language and culture. To help bring people into aviation, Max Trescott has created a free
Learn To Fly
e-book that details a five-step process to earning a pilot certificate. The 37-page PDF file can be read on any computer and can be downloaded from
www.sjflight.com/LearntoFlyebook.pdf
.
For more information, contact:
Max Trescott,
www.maxtrescott.com
.
Page 2 of 2