Wednesday, October 19, 2011
Fly The Bahamas!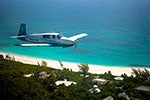 There are few places that go better with flying than the beautiful islands of The Bahamas. Warm turquoise waters, pristine beaches with wide expanses of undisturbed sand, 55 airports to explore, and friendly locals make The Bahamas a perfect destination for quick getaways or long term-vacations. Best of all these islands are just a quick GA flight away from Florida, but a world away in scenery and relaxation. The Bahamas are also a photographer's dream.
If you've ever considered flying to these islands, the reality is that anyone can do it, and the government has made the task painless and straightforward. Follow along with us and share our aerial view of one of the most beautiful places on Earth.
PLUS!!!
Share your Favorite Bahamas Destination photographs here!