Tuesday, March 10, 2009
53 Years Later
Pitfalls over the Rockies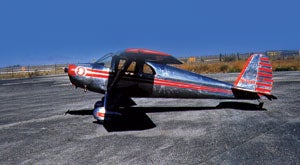 My airplane was gassed up and as it sat on the Rawlins ramp, I noticed fuel running out of the air vents on the gas caps on top of the wings. The cool gas was being heated by the summer sun; as it expanded, it overflowed out of the tanks and dripped off the wings. This would lead to make a mistake near Medicine Bow Peak that would have my legs shaking well into the Colorado plains.
After a takeoff and slow climb out, we were high above the Rockies. Remembering how the fuel had run out of the gas caps, I thought it might be a good idea to switch from the left-wing tank to the right-wing one. This was flawed thinking, and what I did next, I'll never forget. Below the center of the instrument panel was a selector switch that read "left," "right" and "off"; because I thought I was on the left tank, I turned the switch to the right. Turns out, however, that I was on the right tank, and I had inadvertantly turned the gas off. The ensuing silence was stunning. In a millisecond, I had the switch turned back to the right tank, and the engine started again. Below were rocks and trees, and the thought of ending up there gave me heart palpitations and weak knees.
I elected to land at an uncontrolled airport called Sky Ranch in the suburbs of Denver, and phoned Stapleton for permission to land there. I explained my radio situation to the airport manager, and he allowed me to land with light signals. Right away, as I entered the downwind leg at Stapleton, an alternating red-green signal was given to me for caution. Upon turning on the base leg, a green light was given to me and I was cleared to land.
Stapleton Airport was a different place back then. In 1951, I changed planes there, when I was assigned overseas during the Korean War. There was one terminal building, probably built in the 1930s. We boarded a DC-4 from an outdoor chain-link-fence area with a numbered gate. An agent at the gate checked our tickets, and boarding was done via a roll-up staircase.
The trip home from our vacation in Denver was routine and uneventful. But the trip to get there is still clear in my mind 53 years later.
This is your column! We'd like to hear from you about your unforgettable flights. Please send your stories and photos to This e-mail address is being protected from spambots. You need JavaScript enabled to view it
Page 2 of 2