Saturday, September 1, 2007
Bitten By The Viper
This One Goes To 11

This is my "Maverick" moment, so I better not make good on that call sign I was given a few years ago. I'm cinched tightly into the rear seat of an F-16 behind Major Stephen "Chak" Pinchak of the 421st Fighter Squadron, and my heart is racing. I've just armed my ejection seat, so I'm sitting on a live rocket, in a jet plane, and we're about to blast off—literally. " />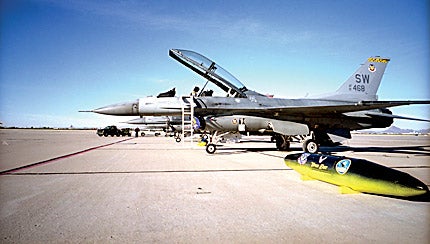 This is my "Maverick" moment, so I better not make good on that call sign I was given a few years ago. I'm cinched tightly into the rear seat of an F-16 behind Major Stephen "Chak" Pinchak of the 421st Fighter Squadron, and my heart is racing. I've just armed my ejection seat, so I'm sitting on a live rocket, in a jet plane, and we're about to blast off—literally.
As the Air Boss crackles over the VHF with our takeoff clearance, I jam my helmet back between the ejection seat's launch rails. Chak then says to me, "Ya ready, Jeff, here we go," and our Falcon, already chomping at the bit, bolts forward with max afterburner. In barely 10 seconds, we're screaming through 150 knots, and 10 seconds later, rocketing along 20 feet above the runway, we're piercing 350. At show center, as we pull a tight, gut-wrenching corner to vertical, the G-suit constricts around me like an angry anaconda and then eases as we roll our way to 11,000 feet. I'm starting to wonder if this was a good idea.
A few years ago, I was in a situation that was nothing like this. I was bouncing to Oshkosh in the backseat of a friend's little green Bellanca Decathlon. After a few hours of the good ol' ups and downs, I reached my I've-had-enough point over Ohio. By the time our loose formation landed in nirvana—I mean, Akron—I never wanted to see another small airplane again. I bid my friends adieu, grabbed a taxi to the nearest commercial field and airlined myself to Milwaukee, arriving at Oshkosh by rental car. When I finally showed my now-less-green face at the campground, I was greeted with cheers and, apparently, a new nickname—Chunx. Captain Dale "Snort" Snodgrass, one-time wing commander of all the Navy's F-14s, thoroughly amused at my Decathlon misadventure, gave me my new fighter pilot call sign. "Why can't I have one like 'Maverick,' or something like that," I pleaded. "I didn't even get sick." But none of my friends paid any mind to my protestations. "Here's a beer, Chunx. Welcome to Oshkosh," chimed George Rousseau, who seemed to take glee in my new moniker. Whatever, at least the beer was cold.
Granted, while this wasn't the most glamorous or macho fighter pilot call sign, at least I was christened into the club by one of the game's greatest. Snort is a bona fide Top Gun, and this past spring, he told me about the Air Force Heritage Conference 10th anniversary, taking place at Davis-Monthan Air Force Base in Tucson, Ariz. With his endorsement, I finagled a ride in an F-16, so now it's time for "Chunx" to test his mettle in some really fancy iron.
Page 1 of 4