Tuesday, May 1, 2007
Cowboy Christmas
Rodeo in the American West

Champion calf roper K.C. Jones is backing his horse, a brown-and-white paint named Mornin' Spot, into the right rear corner of what they call the box, next to the chute. He's focused like a red-tailed hawk dive-bombing a field mouse." />
The flight into Heber City also put to good, practical use the terrain avoidance warning system (TAWS) that comes standard on all Cirrus aircraft. Since I was new to flying in the mountains, I flight-planned using both IFR and VFR charts for their respective info and chose my routes and altitudes accordingly, confirming with TAWS along the way that I'd comfortably clear the granite. Ultimately, I ended up flying a kind of combination IFR/ VFR in that I'd sometimes fly airways for the concrete numbers the IFR charts offered, and then I'd transition to the other type of IFR flying (I Follow Roads), and on the way to Heber City, the road at the bottom of the valley lead us right to the airport—perfect.
The Legacy Of The American West
Calf roping, like most other rodeo events, was born on ranches of the Old West, and as such, it's impossible for city slickers like Eric, Gunnar and me not to feel like we're witnessing, perhaps, just a little bit of true American history. In fact, they've been rodeoing in Prescott, Ariz., since 1888. The rodeo in Oakley was K.C.'s first night performance of the week, and the venue and the crowd were electric and upscale. It was last year at Oakley that I first saw bareback riding and saddle bronc riding, which are quintessential rodeo events—action-packed and visually stunning.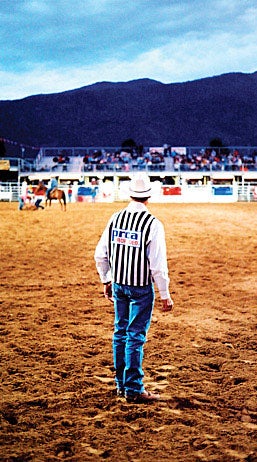 After Oakley, we cooled the heels of our Luccheses and Justins for a day before launching that evening for Belle Fourche, S.D. Some pilots might find Belle Fourche airport a trifle challenging during the day, but our late-night arrival had both Paul Sallach (the Cirrus pilot/production assistant flying the other plane) and I sitting up straight and leaning forward. Besides the occasional stray bolt from the storm just east of the field punctuating our approach—we'd been watching that cell's movement on the XM Weather—there was no moon, and the runway's lights seemed to have two settings, dim and off. After unpacking the planes, we hightailed it to a local motel for barely four hours of shuteye.
The Black Hills Roundup is one of my favorite events. It just seems so charming and pure. Adjacent to the chutes behind the arena there were a few cowboy kids playing cowboys and Indians. (What else would they play?) As I readied my Contax G2 to reel off a couple shots, I asked one of the kids, who was, maybe, six, where he was from. "I'm from the country," he smiled back. I almost wanted to say, "Hey, kid, don't talk to strangers," but I imagine that in the town he's from, there are no strangers. Later, while K.C. geared up for his go-round, I leaned back in the creaky bleachers and got lost in the Western sky we'd come to know so well over the week.
Saying "adios" to Belle Fourche, we moseyed (do SR22s mosey?) back to K.C.'s hometown of Cody for some much-needed downtime before another whirlwind day of three rodeos—a morning ride in West Jordan, Utah, near Salt Lake, a second visit to Prescott Frontier Days, and then an evening performance at Window Rock, Ariz., which I mentioned earlier. The SR22s really proved their mettle on that circuit since shuttling Cody to Salt Lake City, to Prescott via the Grand Canyon, and later from Prescott to Window Rock, Ariz., would have been impossible by either scheduled airline or Freightliner semi.
Page 4 of 5