Wednesday, September 9, 2009
Cross-Country Cubbing
A visit to the annual Lock Haven fly-in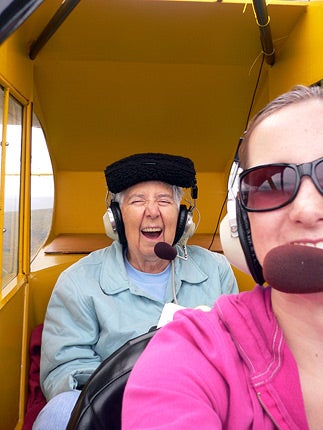 Some things in life make sense. Others do not. For instance, flying a 65 hp, 75 mph cruise J-3 Cub 650 miles from Wisconsin to Pennsylvania does not, by most definitions, make sense. To some people, however, it's a perfectly logical thing to do. I'm one of those people.
When my flight instructor approached me about flying one of his Cubs out to Lock Haven, Pa., for the Sentimental Journey to Cub Haven Fly-In, I was thrilled about the idea, but told him, "Maybe next year," as my college-student budget was stretched too thin to afford such a trip. Imagine my surprise when he told me an anonymous donor had come to him and offered to cover my aircraft expenses to and from Lock Haven. But then again, that's what aviation is all about—sharing our passion with others.
Seven o'clock Monday morning was our planned departure time, in order to beat a presidential TFR around Chicago. En route to the airport at 6 a.m., half of my car's exhaust system departed the car—already, this was a memorable trip! I roared into the airport to find that I was the first to arrive—a rather rare occasion. By 7:15, we were wheels up and headed for our first stop in Goshen, Ind. At 3.5 hours, this was our longest leg, and I was glad to get out of 21Y, the 65 hp Cub I was flying.
After fueling and relaxing for a few minutes, it was off to Tiffin, Ohio. We never flew above 1,000 feet AGL, in order to stay out of some bizarre easterly headwinds (plus, Cubs get scared when they're higher than 1,000 feet AGL). Someone was mowing the grass right alongside the paved runway at Tiffin, and I was pleased as punch to make a beautiful three-point landing right in front of him. Again we fueled up, visited a bit, looked at some airplanes, and were then on our way to our overnight stop in New Castle, Pa.
The first day of flying amounted to 7.5 hours—by far the most flying I had ever done in one day. Being short on sleep, flying into the sun, and getting gently bounced around for hours on end produced a bit of a headache, but I was still in awe of what we had accomplished. Most of our flying was done without a GPS, and we didn't talk to anyone, not even each other, since the radio died about an hour into the trip. The views were ageless—it could have been 1939 or 2009, but often, you couldn't tell the difference.
Page 1 of 2