Wednesday, September 9, 2009
Cross-Country Cubbing
A visit to the annual Lock Haven fly-in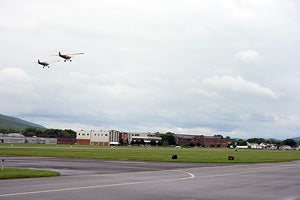 The fly-in is called Sentimental Journey because of the history of Lock Haven, where the original Piper Aircraft Corporation was based. You can't escape the history there, and be it sappy or not, it's an emotional experience. The factory is still there, along with a ghostly, desolate rail yard where engines were formerly delivered. Hangars still bear the Piper name, and many buildings have connections back to Piper.
Perhaps it's also a sentimental journey because it's bittersweet. On the one hand, you meet other passionate people like yourself, but at the same time, you realize that the golden years epitomized by aircraft like the Cub are long since over. Since Piper left Lock Haven in 1984, unemployment has remained in the double digits. Many skilled employees were left with a grudge and no work. The city of Lock Haven, however, is very welcoming to the fly-in.
While in Lock Haven, I was approached by a young father named Andrew who had always wanted to go flying in a Cub, especially from Piper Memorial Airport. I was more than happy to oblige, of course, and we went flying. It was great to share some Cub time with Andrew.
And then there was Leah—my favorite part of the trip. Leah is a former Piper employee who worked in final assembly and also worked for Piper as a ferry pilot from 1946 to 1951. She hadn't been Cub flying in many years, so we entered the poker run together. We didn't win, but Leah said, "We had more fun than everyone else!" and I'm inclined to believe her.
There's nothing quite like a really long cross-country to help you determine your own personal minima and expand your experience. It's a tremendous feeling of accomplishment to arrive at your destination, and you develop a lot of respect for what it takes to fly safely and for how self-sufficient you must be. But at the end of the day, it's all about the people—sparking an interest in aviation in new people, rekindling a passion in someone older, or simply sharing new experiences with others.
This is your column! We'd like to hear from you about your unforgettable flights. Please send your stories and photos to This e-mail address is being protected from spambots. You need JavaScript enabled to view it .
Page 2 of 2