Sunday, July 1, 2007
Refueling The Tacos
The Stratotanker Visits Davis-Monthan

From the cockpit jump seat of a 1954 Boeing KC-135 Stratotanker, our clunky, creaky roll on takeoff seems a stark contrast to the day's activities at Davis-Monthan Air Force Base in Tuscon, Ariz. After what feels like an eternity on an endless runway, we slowly lift off, leaving behind an incredible assortment of U.S. Air Force fighter jets, including F-15 Eagles, F-16 Falcons, F-4 Phantoms, A-10 Warthogs and two F-22 Raptors, on the ramp below." />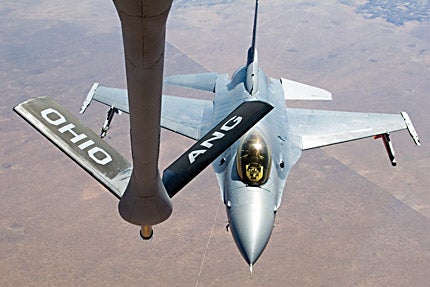 From the cockpit jump seat of a 1954 Boeing KC-135 Stratotanker, our clunky, creaky roll on takeoff seems a stark contrast to the day's activities at Davis-Monthan Air Force Base in Tuscon, Ariz. After what feels like an eternity on an endless runway, we slowly lift off, leaving behind an incredible assortment of U.S. Air Force fighter jets, including F-15 Eagles, F-16 Falcons, F-4 Phantoms, A-10 Warthogs and two F-22 Raptors, on the ramp below.
For four days, these state-of-the-art aircraft have gathered with historic P-51 Mustangs, the heroes of World War II, for the Air Combat Command's Heritage Flight Conference. During this annual event, pilots train for the upcoming air show season to fly in the Heritage Flight, a performance that mixes historic and modern aircraft in two-, three- and four-ship formations. Successful completion of the training earns pilots certification from the FAA and ACC's Air and Space Operations Directorate, clearing them to fly in demonstrations around the country.
"Talk about awe-inspiring," exclaimed Major Paul Moga, commander of the F-22 Demonstration Team. "To realize that the Air Force can put the best fighter jet the world has ever seen in formation with its World War II equivalent is truly something special." Making the event even more spectacular, this year marks the 10th anniversary of the Heritage Flight, the 60th anniversary of the U.S. Air Force and the 65th anniversary of the P-51 Mustang.
The KC-135's four GE CFM56 engines, mounted under 35-degree swept wings, lift us—not an easy task with our takeoff weight at 200,000 pounds—toward our mission: aerial refueling of six F-16 Falcons over White Sands, N.M. Nicknamed "the Tacos," our rendezvous group is from the New Mexico Air National Guard's 150th Fighter Wing. Nearly all of the internal fuel in the Stratotanker, designed specifically for aerial refueling, can be pumped through the aircraft's boom into other aircraft; maximum transfer fuel load is a whopping 200,000 pounds.
Page 1 of 3