Thursday, November 1, 2007
Speed Is Life
The Mooney Acclaim asserts a new record!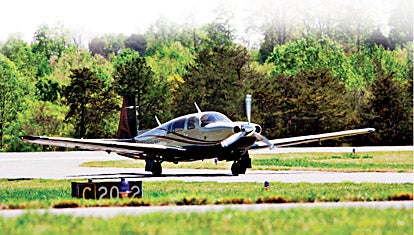 Flying is a compromise. You can have cheap, and you can have fun, but you won't necessarily travel fast. You can have fast, for sure, but it will not be cheap, and fun depends on your definition of the word. Several new single-engine airplanes are as fast as turboprops, but the question remains: Can an everyday Joe use that speed, say, on a typical business trip, and have fun in the process.
Businesspeople often have to attend meetings, and for that they need to travel. Airlines offer speed at the price of flexibility and convenience. Trains and automobiles take more time, and in today's world, time is one of the most precious commodities. Small airports at towns all across the United States suggest that general aviation can offer an alternative to "traditional" modes of transport. So, can a light GA airplane be an effective business tool?
After World War II, aircraft manufacturers went after the business market in a big way, as recreational piloting and the mail service would no longer be the sole outlet for light airplanes. Companies converted surplus bombers and even fighters into executive transports, but for the small businessman, lighter airplanes were the solution to a perceived need. The Cessna 195 was advertised at the "Business Liner" and everything from a Cessna 120 to the Beechcraft Staggerwing and Bonanza were billed as the solution for smaller businesses.
Indeed, the freedom offered by small GA airplanes enables businesses in ways that, while often overlooked, are central to the success of general aviation as a whole. Economies of scale for some big businesses, even in today's era of jet aviation, include a piston single or twin in their fleets for shorter hops.
The hallmark of a successful general aviation business airplane is speed and passenger capacity. If anything, speed is the more important of the two. Because of that, the marketing arm of any manufacturer will tend to emphasize speed over other factors.
Page 1 of 3