Tuesday, July 7, 2009
The Golden Hour
Honoring a fallen friend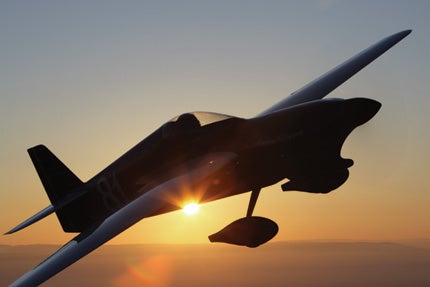 In 2007, my team, Aerophile Air Racing, returned from a very difficult trip to the Reno Air Races. Prior to the races, we had worked closely with five-time champion Gary Hubler to prepare
Carbon Slipper
, and his father, Bill Hubler, was also on our crew. Gary assembled our engine himself, as we were all busy with the never-ending list of speed modifications. Things were looking promising when—to our horror—Gary was involved in a midair accident. Because we were all so close to him, I decided to withdraw our team from the rest of the race, knowing we could no longer safely conduct the business of air racing. I wasn't sure what the future would hold for us, but I knew how hard everyone had worked to put
Carbon Slipper
within reach of the gold. At this time, when we all needed something to lift our hearts, I wanted to find a way to thank everyone, commemorate our success and honor Gary.
I asked Jim Raeder, a professional aviation photographer, if he would take a few air-to-air shots of
Carbon Slipper
before we took her apart again for more modifications. The air was surprisingly smooth for late in the afternoon toward the end of October. As I taxied into position, Jim and his brother, Brian, were in
Avid Flyer
behind and to the left of me. I put the throttle to the wall, and the engine quickly spun up to 3,600 rpm. Then she came alive. At 40 mph, I lifted the tail, and quickly accelerated to 80, gently floating off the runway. I held it low while continuing to accelerate up to about 180 when I pulled up for a steep climb to 5,000 feet, where we had agreed to form up. It took a bit for Jim to catch up, but after he got to altitude, I formed up on his left side. Brian was flying from the right seat, and Jim gave me hand signals through the open door to position me for the shots. It was the "golden hour," and the light was just about perfect for warm photography and nice shadows.
Page 1 of 2