Tuesday, May 12, 2009
The Proposal
An extra-special vacation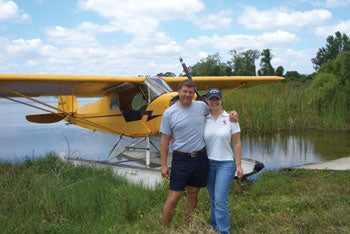 Brian fired the little plane back up and taxied us out. We could see right through the clear shallow water to the rocks and grasses on the bottom, so we had to be extremely careful. When we got to the open bay, Brian pointed the Super Cub into the wind and added all of the power a 150 hp engine has to give. I felt the floats work to overcome the friction and tension of the water, and we lifted off. The clouds were clearing up as the day got warmer, so we had the whole sky to play with. The Cub's windows were open and the cool air streamed in. Sunlight sparkled on the water of the bay as we flew low, soaking in the scenery and the joy of being aloft.
We didn't want to make J.R. worry, so after a while, Brian said we should probably head back. We made one more pass over the picturesque island to make sure the wind hadn't changed, and Brian let the little plane back down toward the surface of the bay. With the power at idle, the floats kissed the water and we let the plane sail a little bit in the breeze.
Brian reached up and shut the engine off. As we coasted to a stop on the water, he asked me if I thought the flight and the landing were okay. I replied that they were great, and he asked me if I could think of anything that would have made them better. I told him they had been perfect. He then turned around, opened a box containing a beautiful engagement ring, and asked me to marry him. Through my tears and smiles, I finally managed to say, "Yes!"
We were met back at the dock with huge smiles from Brian's conspirators and a fantastic bottle of Krug '95 champagne. Paige and J.R. prepared an amazing dinner for us to celebrate the occasion. Needless to say, we were both thrilled beyond words. Brian and I were married April 18, 2008, and he surprised me once again. This time with an incredible wedding present—a float rating in a J-3 Cub!
This is your column! We'd like to hear from you about your unforgettable flights. Please send your stories and photos to This e-mail address is being protected from spambots. You need JavaScript enabled to view it
Page 2 of 2