Tuesday, April 14, 2009
We Fly the F-22 Raptor
Here's what it's like to fly the world's most sophisticated fighter – sort of.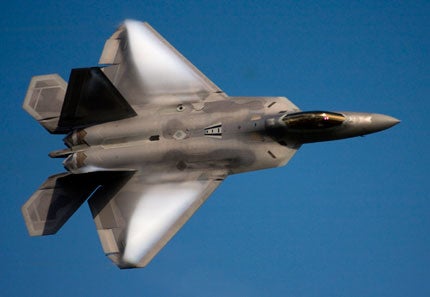 I'm cruising at 40,000 feet above Nevada in America's front-line fighter. Perched out on the pointy end, I can't see what's following behind, but I know it's roughly 63 feet long and weighs as much as 64,000 pounds.
In contrast to the snug cockpit of an F-16 Falcon, my "office" feels almost as relaxed as an easy chair, with plenty of space in every direction. It's about as comfortable as a jet fighter can be.
Airspeed is steady on Mach 1.5 or 860 knots, comparatively loafing, yet devouring the sky at 14 miles a minute. The thrust levers are set to max military power as I watch Las Vegas drift by far to my left. Technically, this is called supercruise, flying beyond Mach 1.0 without using afterburner.
"My" jet is closing on four unknown targets, well beyond visual range, converging from the north at Mach 1.2. All four targets suddenly shift to red, my cue that AWACs has positively identified them as bad guys.
I roll the right side stick hard left to bring the nose around and simultaneously shift the target designator on the throttle quadrant to the nearest enemy. According to my radar, the targets are all within 35 miles. When the annunciator lights on the target, I mash the red, "fire" button on the stick.
In less than a second, the weapon I've selected, an AIM-120C AMRAAM missile, deploys from the onboard weapons bay, leaps off the rail and streaks out in front of my jet, blazing toward the target at Mach 4.0.
In a heartbeat, I shift the cursor to the next closest target, punch the fire button, and a second AMRAAM leaves the airplane's belly and races ahead of me toward its target. I repeat the procedure on aircraft three and four and watch the sky ahead.
Suddenly, far off in the high sky, I see an explosion, followed by three more in rapid succession as the missiles impact each of the enemy aircraft. The center-mounted threat screen shows the sky ahead clear of targets. Raptor 4, bad guys 0. I pull the nose slightly above the horizon and roll the airplane to the right in celebration.
Page 1 of 3