Tuesday, January 26, 2010
The Science, The Art, The Realities
Perfect airplanes usually exist only in the eye of the beholder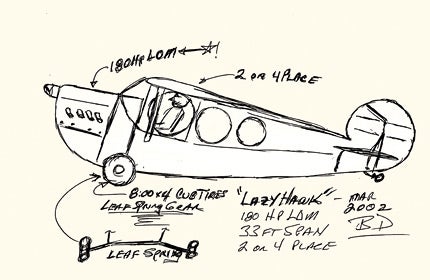 DOODLE DESIGNS. All his life, author Budd Davisson has dreamed up his own designs for airplanes, including this sketch of the "Lazy Hawk," which he has no intention of ever bringing to fruition but loves to dream about. It makes him smile.
Anyone who has flown for more than 10 minutes has developed an idea of what defines the perfect airplane. Many people have determined that out of the hundreds of different airplane types, there's not a single one that exactly scratches their particular itch. This is why so many of us doodle airplanes on napkins and in the margins of the business reports we're supposed to be reading. This also is why a few rare souls actually do put pen to paper to design their own airplane before bringing it to three-dimensional life. I'm not one of those souls—and I never will be. For a couple of very specific reasons, I'd never design nor build my own airplane.
Note: We're talking about designing and
then
building an airplane—not just building it. Lots of people build airplanes. Most of them build from kits, but the more ambitious builders take a few sheets of paper and a pile of tubing, aluminum or Fiberglas, and rearrange them into an airplane. These are the scratch builders. Just building, however, is a world apart from designing
and
building.
Is designing an airplane really that difficult? That depends on an individual's background, experience and tenacity. When designing an airplane, tenacity probably is the most important element: With an oversupply of tenacity, an individual can learn everything necessary to design an airplane from scratch. And a lot of more or less "normal" folks do it.
In theory, my engineering background (ASE) and half century in building airplanes should qualify me as an ideal candidate to come up with my own design, but I want to make it clear—that ain't gonna happen. Ever.
I don't design and build airplanes for the same reason I don't design and build my own acoustic guitars. Like so many other people, I have very specific tastes about what I like. Back in the day, when I was still a newbie to both flying and music, I surrounded myself with my own designs for airplanes, cars, guitars, etc. These designs were like graffiti on everything I owned. But as the years flashed past and my experience multiplied exponentially, the drawings—casual at first but very formal later—took on a different flavor. Guitars disappeared altogether, and the airplanes became replicas of known racing airplanes, or serious modifications of existing airframes. The original designs disappeared from sight for what I consider to be very good reasons.
Acoustic guitars and airplanes share a basic secret that has dogged their designers from the beginning. Beyond the basic physics, beyond the nuts and bolts, spruce and rosewood, on rare occasions, there's "something" in a given airplane or guitar that makes it just different enough that it has a distinct personality of its own. And that personality can be neither predicted nor defined by numbers or calculations.
No matter what any designer tells you, until the drawings on the paper have come alive in the form of the final product, the person doesn't actually know how the project will come together. The designer can't predict whether it'll have that "something" or not. Generally, the design may come close to nailing performance specifics—and yes, the airplane will fly fine, and the guitar will make the appropriate noises—but will "it" be included in the package?
Page 1 of 2