Tuesday, August 25, 2009
What Recession?
Oshkosh shows that passion trumps depression every time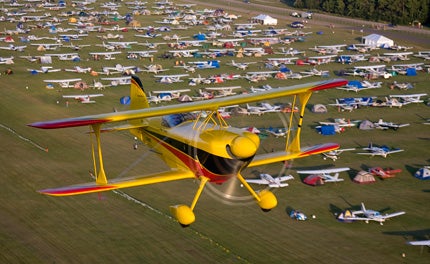 THE WORLD'S GREATEST AVIATION CELEBRATION THRIVES. Despite the poor state of the economy, pilots and aviation enthusiasts turned up in record numbers for the yearly celebration of all things aviation.
Is Oshkosh ever really over? It'll be weeks, maybe months, before my mind catches up with my body. And by the time my brain and body are back in sync, it will be time to begin thinking about next year, so it never truly ends. In addition, this year, all of us who were part of the overly dry/wet/hot/ cold/tired/ energized/smelly masses in attendance learned one very important fact: That part of aviation represented by Oshkosh doesn't appear to care what the media is saying about the economy. Doom and gloom be damned, these people were going to indulge themselves and their passion no matter what. In short, Oshkosh was not—repeat,
not
—the disaster all the hotshots expected and the rest of us feared. In fact, it was just the opposite.
I normally arrive a couple days ahead of time and watch the event build, but this time, I showed up on the afternoon of the day before it started. It looked as though I had arrived in the middle of the week and the show had started without me. The north transient aircraft parking area flowed to the horizon, and the main show line of aircraft had already filled all but the last few rows of the nearly two-mile-long parking area. I'm certain that in the 43 years I've been making the trek north, I've never seen those areas more packed. Then, a few days into the show, the car parking area, which is measured in square miles, not acres—and had recently been expanded—was completely full for what may have been the first time ever. People were parking their cars in the shopping malls around the airport, and cars were backed up down the highway for 12 miles.
Twelve miles
—absolutely amazing!
Page 1 of 2