Tuesday, May 7, 2013
Who Was Lt. A. F. Linde?
Of history, estate sales, attics and kids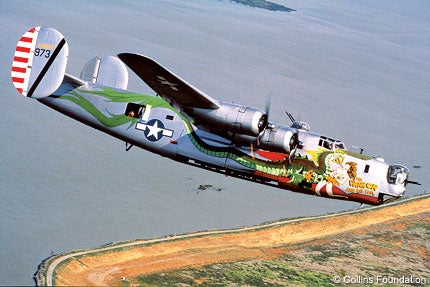 On the back of the sheath, it says, "A.F. Linde, O-930832." That was the pilot's name and service number. And the knife is a handmade "theater knife," meaning, it was made during WWII in-theater. Probably by the guys in the maintenance shop who, when they weren't maintaining B-24s like Linde's, were making knives for whomever wanted them. Payment was usually in beer rations.

It's unknown what A.F. Linde paid for the pair of knives that now lay on my desk as part of my accumulation of "stuff." However, I do know exactly how they wound up on eBay: No one in his family apparently cared enough to remember him through his mementos.

There were tens of thousands of theater knives made during WWII in every corner of the globe, and they constitute one of the lesser-known forms of what's sometimes called "trench art," hand-crafted artifacts made in the rear areas right where the combat was taking place.

The shared characteristic of all theater knives is that no two are even remotely alike. Some are finely crafted, like Linde's. Some are laughably crude. Some are wickedly effective tools of war. Others are comical in their exaggerated shape and dimension.

Many are pristine, having been carried for effect, while others show the patina and wear from use in actual combat. Linde's two knives appear to have never been used. They are as he packed them in a duffel bag or footlocker when he headed home.

In almost every case, as soon as a knife was handed to the customer, the name of the craftsman was lost. And once the war was over and the edged artifacts drifted into bottom desk drawers, attics, footlockers and flea markets, their origin and the name of the owner also was lost.

They became just another curiosity of war, their history gone forever. Not so, Linde's knives. I made them mine because I saw them as a tangible connection to a young pilot and a younger nation. And, I felt driven to know more about Mr. A.F. Linde, service number O-930832.

From service records, I found that he was flying B-24s out of Italy as part of the 55th Bomb Wing, 456th Bomb Group. And he was probably a copilot, as he was only a shavetail (second Looie). Later, I learned that he was 23 years old at the time he came home, so he was almost certainly less than 21 when he went through flight training.

Everything was guesswork until the helpful eBay seller, identified as "Rainbowseeker" in Wisconsin, forwarded me a newspaper clipping that tied the whole thing together. In only a few paragraphs, I learned that 2nd Lt. Arlyn F. Linde was from Fond du Lac, Wis., and returned from Italy in June of 1945, so he was in-country during VE day.
Page 1 of 2