Tuesday, September 22, 2009
My Secret
How teamwork makes for the best job in the sky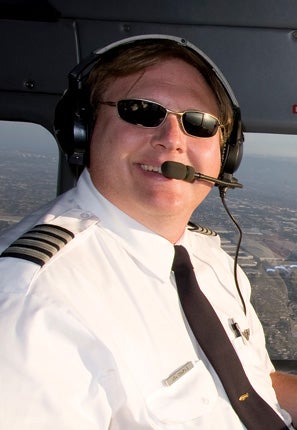 I have a secret that I'm going to let fly with the aviation community. Perhaps the greatest flying job in the world is the one I have as pilot in charge of Goodyear Airship Operations on the West Coast, flying the
Spirit of America
. I have a front-row seat for witnessing some of the most breathtaking scenery on the West Coast, as well as the opportunity to float over beautiful cities such as Seattle, San Francisco and Los Angeles. Most importantly, I work with what I consider to be the best crew in the business. This lands my job at the top of the A-list (short for aeronautics).
I'm a self-described control freak. I grew up in a rural part of Nebraska, which isn't difficult to do (most of the state consists of wide-open spaces). I mostly worked alone on a farm/ranch that was 50 miles from my home, and I learned the Western way of life: independence and self-reliance. Back then, watching
Airwolf
and
Baa Baa Black Sheep
, I could identify with the strong, self-reliant pilot who was in control of the situation.
I completed my rotary- and fixed-wing training in Colorado, and most of my helicopter flight training was done in Nebraska, Colorado and Wyoming. Flying in high, unforgiving territory, I had the opportunity to hone my skills as an independent aviator, and I eventually took a job flying helicopters. When the helicopter I flew was sold, however, I decided to find another job in aviation. (I didn't think I'd looked good in the John Deere tractor that was waiting for me.)
My lucky day—the day I entered into the unparalleled world of the airship—arrived in May 1998. High Degree Operations hired me as a pilot in training on one of its blimps. In airships, you start at the bottom and work up. As the pilot of a lighter-than-air airship, you must know everyone's job and what the team expects out of each member. Someone must watch the airship 24/7. The crew members take turns; whether there's rain, cold or shine, somebody must monitor the pressure of the airship and make sure it stays properly ballasted. To become an airship pilot, I first had to become part of the team; to become a crew member, I needed to stand watch.
All teams have rituals and rites of passage. To earn passage, I watched the airship from 11 p.m. to 7 a.m., during what's called the "A watch." I'd then preflight the airship and help fuel it. From there, I'd fly the all-day cross-country; traveling at a "blazing" speed of 30 knots, you cover about 230 to 250 miles in an eight-hour day. However, most days were longer. After we had landed, I'd check into the hotel (where I hoped to get between four and five hours of sleep) and be back out to watch the airship at 11 p.m. This cycle would continue for seven days, or until we reached a city that we'd stay in longer than a day. I did the A watch and was a pilot in training for six months.
During this training period, I went through culture shock. The passage that I embarked on was one of team trust and loyalty, a far cry from the days of self-reliance and solitude. Everything I did was
with
or
for
the team. I shared a hotel room with a crew member; I ate with the crew; I traveled with the crew. Every activity was social, laden with more people than I ever could have imagined. And…I had the greatest time of my life.
Page 1 of 2