Tuesday, March 26, 2013
A Summer Of Opportunity
Making the move into competition aerobatics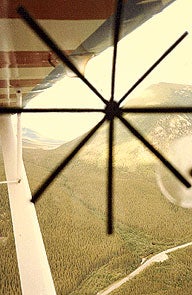 Electric tape on the window of Patty's Super Decathlon serves as a "sight gauge" for precision aerobatics.
All in all, it was a nerve-wracking experience, and I swore I'd never compete again. Maybe I should stick to air shows? I didn't mind being coached or critiqued because it was the only way to get better, but five judges on the ground grading every maneuver was too much!
Still, my growing love of aerobatics and perfecting lines and angles told me deep down this was exactly what I needed. I was looking for a place to excel, to go deeper and push my own boundaries.
So, I decided to try again the following month at the U.S. National Aerobatic Championships held at the Grayson County Airport in Sherman, Texas. At the invitation of Duane Cole, one of the air show greats, I flew to Fort Worth, Texas, where he offered me a place to stay and daily coaching. Luck Field was perfect—it was small, quiet and had an aerobatic box.
I'll never know if I was ready or not because the Nationals was rained out, but I made some new friends, and as luck would have it, one of them offered to sell me half interest in his S-1S Pitts Special, N8078. I certainly wasn't competitive, but I was ambitious, and this airplane could take me to the next level—the Advanced and Unlimited categories.
The Pitts is inherently unstable, which is what makes it such a great aerobatic airplane. So, before flying it, I flew the Decathlon to Midland, Texas, to fly with Gene Beggs, the premier instructor of the "Beggs/Mueller" method of emergency spin-recovery training.
We flew the spin course—upright, inverted, flat, accelerated—in his two-seat S-2A Pitts, and worked on advanced akro that I couldn't do in my Decathlon—tumbles, vertical snap rolls and tailslides—until I felt ready for the next step.
I soloed the Pitts, practiced a few hours and then headed west to Tucson for my second contest, The Tequila Cup. I was still nervous about competing, but was proud to say I came in second place in the Intermediate category! Just ask Wayne Handley—the only other competitor—who came in first!
The next contest was in Borrego Springs in the California desert, where I competed in Advanced. Most competitors start in Sportsman and like to do well before moving up through the categories. That's probably the sanest idea, but my plan had evolved into making the Unlimited category on the U.S. Aerobatic Team by the next fall, in 1985. I had no time to waste. I didn't know how long my good luck would last, so I figured if I wanted to compete in Unlimited, I had better fly in Unlimited.
N8078 was pretty basic. It had no radio, no transponder and the compass always pointed north. But who needs navigational instruments when you can read a sectional chart or a road map?
Page 2 of 3