Wednesday, September 9, 2009
From The Editor: From Bush To Big City, And Way Beyond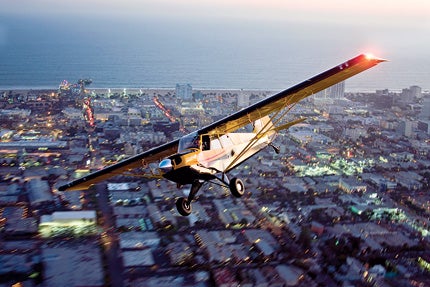 Any taildragger pilot will tell you that you can take a Husky out of the backcountry, but you can't take the backcountry out of a Husky. In this issue, we put this to the test. Contributing Editor Marc Lee and USAERO's Robert Stewart deliver a new Husky A-1C from Aviat Aircraft's factory in Afton, Wyo., to Long Beach, Calif., where it'll serve as a demo airplane in the Los Angeles metropolitan area. As they head westbound, through mountain passes and over lakes and rivers, a new level of confidence is achieved. "Since the Husky can land in a very short distance and on such varied terrain, we were able to enjoy flying at a low altitude while remaining sure about what would happen if we had to put down," reports Marc. "Try thinking that way in a Bonanza or any faster cross-country airplane."
Icon Aircraft founder Kirk Hawkins, who has flown everything from ultralights and fighter jets to airliners and seaplanes, piloted N141US during our air-to-air photo session. Using the new Garmin G600 to navigate through the complex Southern California airspace, the Husky took to the hills of Malibu as if this backdrop were a remote Rocky Mountain setting. "It was exactly the kind of flying experience I love the most," says Kirk, "low altitude, windows open, exploring the outdoors in an honest, great-flying, stick-and-rudder airplane. It was a fun afternoon!" To view footage from the low-and-slow sunset flight, check out our new video gallery at
www.planeandpilotmag.com/videos.html
.
While 630 nm may seem like a long trip to many of us, not so for Senior Editor Bill Cox. The seasoned ferry pilot has completed 201 ferry flights, of which 185 were across an ocean (and the rest were to "nearby" South America). Bill receives weekly queries from readers about these experiences, and this month, he tells us what it's really like: not so glamorous! "Contrary to the sometimes romantic image, ferry flying isn't for everyone," he confesses. "We rarely fly to chic destinations because they're nearly always more expensive and the whole idea is to make a profit. It's not too comfortable, sometimes with no back seats or right seat to make room for ferry tanks. The paperwork can be onerous, and the hours can be extremely long." Bill's longest flight lasted 17 hours, when he encountered unforecast headwinds during a 2,164 nm leg from Santa Barbara to Honolulu in a Cessna 206. He touched down with just nine gallons remaining! But other flights have been riskier, including winter crossings from Goose Bay to Reykjavik traversing 1,400 nm above the far North Atlantic, including the Greenland ice cap. "Weather in general and icing in particular are the riskiest culprits," Bill explains. "I've almost been in the water at least a half-dozen times with so much ice on the wings that the airplane didn't want to fly." Last winter, a transatlantic flight in a Marchetti took two months to safely complete because he opted to wait out adverse weather conditions. "I've finally wised up!"
Or so he says. This fall, Bill will ferry a 2004 Cessna Caravan, formerly owned by Angelina Jolie and Brad Pitt, to Seoul, South Korea, via Honolulu and Guam. He'll bring along a Spot tracker, so you can follow his progress in real time on the 8,740 nm journey at
www.planeandpilotmag.com/spot
. Monitor our website and
www.facebook.com/planeandpilot
for updates on his launch date.