Tuesday, April 26, 2011
Inspiration To Africa
Building general aviation in Ghana with Medicine on the Move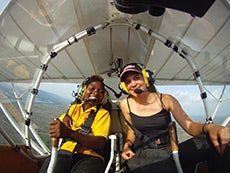 Patricia Mawuli Nyekodzi is the poster child for what M.O.M.'s mission is in Ghana. She's Ghanaian, and she's now teaching other young Ghanaian women to become aircraft engineers and pilots. M.O.M's mission is to train the young women of Ghana, so that they can one day fly the aircraft that they've built into the villages from which they came, and take with them inspiration and education. Through teaching basic first aid to people and educating them in reading and writing, many problems will be stopped before they begin. If not treated properly, a simple cut can result in an amputation, because the basic understanding that you need to clean a wound isn't even there. Drinking clean water and avoiding bathing or going to the bathroom in the lake will prevent bilharzia. (There's a pill to cure bilharzia. However, if within two weeks after taking the pill a child drinks lake water, the disease will return, and the cycle goes on.) If antibiotics are given to a village where the population can't read or write, or understand the importance of dosages, then the antibiotics may not be used properly. Education and prevention are the keys to long-term success.
The difference between the impact of an obruni (foreign white person) flying into a village with doctors and medication compared to the life-changing impact of a Ghanaian woman, flying and landing an airplane that she built, into a village of her own people, is everything. The message of health education will be listened to when it comes from a Ghanaian. Through example, these girls are empowering the villagers with the message that they themselves can make a difference. The reason M.O.M. is focused on women is because they're more likely to remain in Ghana and help their country. They'll pass on what they've learned. And yes, it will take time, but Medicine on the Move is changing lives, one flight at a time.
To view a trailer of their film, go to
http://vimeo.com/21946586
Melissa Pemberton is a full-time air show performer in her Edge 540, and a former member of the U.S. Unlimited Aerobatic Team. She'll accompany Jonathan, Patricia and one of their students, Lydia, on M.O.M.'s first visit to the United States at EAA AirVenture. Melissa and her husband, Rex, have spent months filming the documentary The Calling about M.O.M. Visit www.sportsgal.com, www.rexpemberton.com and www.medicineonthemove.org.
Page 2 of 2