Tuesday, March 10, 2009
Personal Aviation At A Crossroads
Looking back and moving forward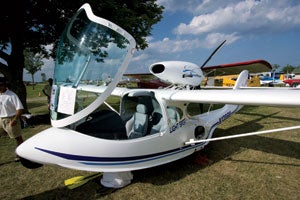 Now, with robust standards and the use of new technologies, we're seeing a plethora of high-quality, efficient, fun-to-fly aircraft flooding the personal aviation and flight-training marketplace. These newly manufactured aircraft outperform their traditional counterparts and, in some cases, offer better value. Because the standards are nongovernmental, they're international in scope and are being referenced by a growing number of countries. Two thirds of all LSA today are manufactured outside the United States.
During a recent visit to the European Aviation Safety Agency (EASA), it was intriguing to note that EASA is following a path the United States took in the early '90s with recreational pilot and primary category aircraft certification. One of EASA's current goals is to regulate aircraft with a gross weight between 450 kg and 2,000 kg (this covers "fat" microlights through something like a six-seat Cessna 206 on floats) by simplifying the existing type-certification process. The organization proceeded even with the understanding that after 15 years, only a handful of recreational pilot and primary category aircraft certificates were ever issued in the United States.
While many who have jumped into LSA ownership have come from a general aviation background, there has also been a trickle toward LSA from the noncertificated realm. I recently chatted with Wallaby Ranch Flight Park proprietor Malcolm Jones as hang gliders launched toward puffball clouds above his central Florida property, and we shared notes on the allure of personal flying. Wallaby is an oasis of tree swings, bungalows and a swimming pool surrounded by takeoff areas in all directions. It's a peaceful Eden for frolicking and has no fences, gates or signs—nothing to deter the casual observer, unlike what you'll find at many GA airports. Activity at the ranch is relatively stable: New blood comes in as others leave.
Jones and I talked about my new job in the FAA Light Sport Program Office and how the light-sport rule had affected his operation. He was surprised at the small negative impact the rule had on people who were now required to get a sport pilot certificate. Most of the hassle, he commented, was just paperwork. Furthermore, conversion of the ranch's existing ultralight tugs (used to tow the hang gliders) was no problem. I also met with a group of ranch regulars, and it was clear that, for them, LSA was the future. In one hangar, I even spotted four gleaming new Sea Max LSA amphibians, ready for new owners to fly them away.
Page 2 of 3