Sunday, June 1, 2008
State Of The LSA Industry
The future looks bright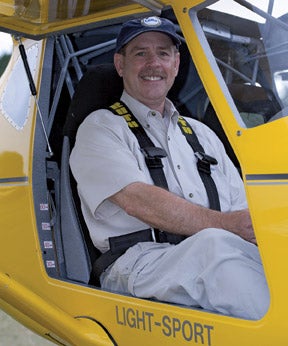 At the 2005 AOPA Convention, barely six months after the first light-sport aircraft (LSA) airworthiness certificates were issued, AOPA President Phil Boyer observed, "This has got to be one of the most interesting things you can do: help bring a whole new segment of aviation to market."

Boyer made this observation at the Expo's opening session to a standing-room-only crowd of 1,200 attendees. I happened to be the lucky focus of his comments as he introduced my presentation. At the keynote ceremony, I spoke about LSA, Cirrus' Alan Klapmeier then addressed technically advanced aircraft (TAA) and Eclipse's Vern Rayburn finished by discussing very light jets (VLJs).

Afterwards, in answering a reporter's question during a press conference, I mentioned that the potential economic impact of LSA was much less than that of TAA or VLJs. Both Klapmeier and Rayburn quickly countered, "No, that's wrong! LSA represent a huge economic impact."

They were right, but so was I. What I meant was that the total billings of LSA sales would total much less than TAA and VLJ sales. Klapmeier and Rayburn meant that the value of a new fleet of trainers and new energy for recreational flying could trigger a growth phase for aviation in general.

I was pleased by the viewpoint of these two leaders and by Boyer's comments. LSA have become the new entry point in aviation and could have an important role in helping aviation prosper by reversing a slow decline.

Just The Facts
The LSA industry is completing its third year of deliveries following the first approvals. In that time, the industry can be proud of its accomplishments.

How fares the LSA industry? Are we meeting the lofty expectations of Messrs. Boyer, Klapmeier and Rayburn?

The new rule gave birth to the sport pilot certificate and to LSA, the new, factory-built aircraft that sport pilots and other pilots may fly.

Abbreviated SP/LSA, the new rule affected many other parts of the FARs, the familiar Parts 61 and 91 among them. It also established a new way of certifying aircraft. So far, many expert observers feel that the program is succeeding. We have a number of benchmarks to use in explaining this position.

In the 32 months from the first approvals (on April 15, 2005) through December 31, 2007, 1,395 LSA were delivered, including 1,118 fixed-wing, three-axis airplanes and 277 alternative aircraft (i.e., weight-shift trikes, powered parachutes and motorgliders). Two-thirds of these came from overseas factories, primarily in Eastern Europe.

In 2007 alone, once the industry's distribution structure began to answer demand, deliveries totaled 565 airplanes, up 98% from 2006. Deliveries of all LSA types equaled 720 units, up 120% from 2006.
Page 1 of 2