Monday, September 1, 2008
In This Together
High fuel? Plunging dollar? We say, "bah!"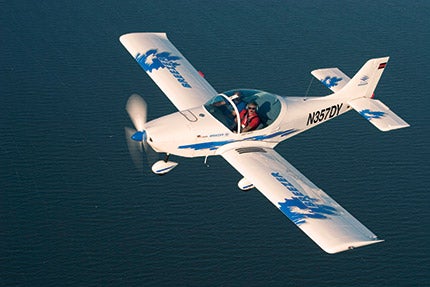 Breezer II. LSA like this German-produced monoplane are affordable, forgiving and fun.
This could be the greatest thing to happen to general aviation since the 1940s," says Mike Zidziunas. "This" refers to the rise of light-sport aircraft (LSA). Industry "pundits" set the number of LSA sold so far in the United States at nearly 1,400, give or take an airframe or two. Although the credit crisis and fuel woes are doing a sumo squat on the picture as we speak, recreational pilots, aviation career seekers and flight schools intent on bringing fresh hardware and energy to aging trainer fleets forge ahead.
Zidziunas knows firsthand whereof he speaks. His Mike Z Sport Aviation Service at Florida's Plant City Airport (
www.mikezsportaviation.com
) is a one-man prototype for how LSA are finding their way into the mainstream. Now that the light-sport rule is in place, and there's no shortage of blue-sky-eyed entrepreneurs willing to produce aircraft and kits (more than 80 models now available, with possibly 75 more in the next 12 months!), FBOs across the country are taking notice.
Zidziunas offers a traditional approach: flight and ground instruction, aircraft rentals and complete repair/maintenance. The big news is that his operation is based solely on LSA, and so far, he's had to beat back customers with an old wooden prop. I exaggerate, but he does have a waiting list for his Ikarus C-42 LSA trainer.
"I run my training operation with eight students at a time," says Zidziunas, a CFI and level 2 certified Rotax mechanic. "As each pilot graduates, I start the next person on the list."
Flight-training prices in new LSA—on average, $120 per hour dual—are at the low end of the scale inhabited by conventional flight schools that use older Cessna 152s and 172s. LSA ground instruction runs around $30 hourly. You can even rent an LSA (wet) for $89 an hour. That will put you in the left seat of a lovely Breezer II, a German-made, low-wing monoplane distributed by
Sportsplanes.com
.
Young, starry-eyed pilots can find out whether their flying dreams have wings without spending several thousand dollars more on a full private pilot license. Likewise, old timers can keep flying without resorting to hang gliders or jumping off the roof with big umbrellas.
Speaking of the Breezer, Zidziunas took me for a spin during this year's Sun 'n Fun Fly-In. We lifted off from the idyllic, busy grass strip known affectionately as X49, where much of the LSA demo action takes place every spring. I will say—from that flight and other recent flights in the Toxo, Legend Cub and other LSA—that you don't need to be like Chuck Yeager to figure out that these sport birds are fun and easy to fly.
Nominal three-axis skills will stand you in good stead with the Breezer. The controls are light and well-balanced. Viz through the big canopy is superb, it's comfortable and roomy, but most of all it's a flat-out hoot and holler to fly.
Isn't that what we're looking for? Something affordable, forgiving and, most of all, enjoyable?
The fact that many ships performing in today's economic "Theater of the Absurd," known as the devalued dollar, sell for less than $100,000 (some go for considerably less) means that we can fly, yes, still fly, without mortgaging our firstborn child and the family dog on a loan.
The recent strafing run on our flying dreams,
Gas Crisis II: Back To The Amish
, starring Harrison Ford, adds an extra incentive to fly an LSA, unless you're not bugged by hamburger runs costing $378.72. With typical LSA fuel burns running 3 to 5 gph, as opposed to 8 gph and up for traditional trainers, students and sport pilots can reasonably expect to bank $20 and more per hour on fuel alone.
Extrapolate that out to the 30 to 40 hours for a typical sport pilot license training program, and we're saving, even at 30 hours, around $600 on fuel alone.
That's at $4 per gallon. By the time you read this, we could be gagging on $5 per gallon. Or $6, which brings a difference of $900. And we're talking unleaded auto gas, which LSA engines such as the Rotax like just fine.
Here's Zidziunas' real-world take: "I've actually seen increased interest in LSA because they're so economical to operate. I recently flew a new airplane from Tampa, Fla., to Richmond, Va., in 6.5 hours on 32 gallons of gas. I also did five hours of flight instruction on one 24-gallon tank without dipping into my reserve."
Page 1 of 2