Tuesday, March 8, 2011
Light-Sport Chronicles: Flight Of The Navigator
Small and feisty companies like 3Xtrim challenge conventional market wisdom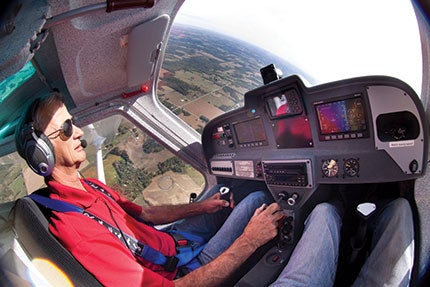 LSA Market. Polish company 3Xtrim is carving a niche for itself with its lower-priced Navigator.
What does it take to succeed as an LSA entrepreneur in this crazy market? Even in an upbeat economic environment, the sheer audacity of jousting with more than 100 competitors is laudable—or foolhardy, depending on your aversion to risk. After flying 3Xtrim's Navigator LS600 (known as 3X55 in Canada since 2006), I asked National Sales Manager George Ezzo the question, "How do smaller companies win the hearts and minds of buyers?"

"With a good product mix, by placing airplanes in reputable flight centers, and by 'Americanizing' components for quicker service and repair." That "mix" will shortly include an E-LSA kit, float and snow ski options, and even two LSA sailplane models. The Polish parent company has built sailplanes for 55 years, and the Navigator already sports a glider tow option.

Considering the FBO question, Ezzo says, "If they've survived this economy, they are in it for the long haul. We'd rather go with 10 good representatives in an existing, proven infrastructure than have 100 less-capable dealers that need constant micromanaging."

What niche might the Navigator carve out for itself?

"It's a decent product with a great useful load. There are faster—and slower—models out there. The all-composite airframe has had no structural issues over its 15-year design life. And we use the Rotax, a proven, wonderful engine."

Price is another positive: In a field of composite LSA typically selling for $125,000 and much higher, the basic model goes for $99,900. That includes a Dynon D-100 glass panel and dock for the included Garmin 396 GPS, Garmin nav/com radios, transponder and steam gauges. The top-line model boasts a Dynon SkyView glass panel, Garmin 696 GPS with AirGizmos dock, leather seats and more for around $130,000.

One challenge all foreign-supplied LSA reps face (about 70% of the market) is getting parts quickly. Although 3Xtrim has changed over to many American-made components, such as tires and Grove brakes, Ezzo says even airframe parts coming from Poland "can get here from the factory and out to customers in two or three days."

Likewise, Rotax service centers continue to manifest nationwide, with more FBOs training personnel in the repair and maintenance of the ubiquitous power plant. 3Xtrim (pronounced "three extreme") may open its own Rotax service center at its KBQR Buffalo-Lancaster Regional Airport headquarters. My inflight impressions confirmed the Navigator as a sporty runabout with decent XC credentials. The cute S-LSA has agreeably nimble handling, with pushrod ailerons/elevator and cable rudder. I clocked an average climb over 800 fpm from 500 feet to 3,000 feet, at just less than full power. Ezzo cites an initial 1,200 fpm climb rate, although 3Xtrim publishes a more conservative 1,000 fpm figure—which is still right up there.


Page 1 of 2