Tuesday, August 9, 2011
Light-Sport Chronicles: Gag Reel
Real-world kudos from the folks who fly LSA day in, day out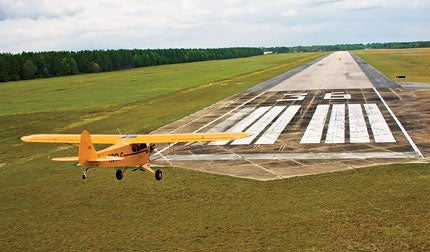 REAL-WORLD LSA.

James Lawrence samples pilots around the country who are regularly flying and loving their light-sport aircraft, such as this Legend Cub.
To help with my recent write-up on what's great about owning and flying LSA, I had the pleasure to jaw with several owners, from teachers to pleasure flyers. As always, my page tank ran out long before my enthusiasm to share their stories. Consider this, then, a "gag reel," similar to the end credits of movies, where outtakes of actor's screwups pop up as the credits scroll down.
Shirley Wozniak is a veteran pilot who does her LSA flying in a Remos GX out of Stewart, Fla. She has taught in Tecnam aircraft, including the Eaglet, and has flown the Gobosh, Zodiac, PiperSport and other models, and has a better feel than most for the category.
"I've put around 250 hours on my GX, and I can't find a flaw: There's not a dimple in the skin, not a run in the paint. The aerodynamics are unbelievable. I teach in it, crosswinds are no problem, and it's so stable. There's no wing flapping, no noise, and I take it everywhere on my own trips, too."
Wozniak has the full-boat, avionics-loaded Aviator II model, and uses it for instrument training. "I don't actually fly IFR myself, just teach it. This airplane's got it all. It's so much cheaper to learn IFR in for the Private Pilot, and much less expensive to operate, too."
She owned a Remos G3 previously, but, she says, "I didn't like it as much. The GX reminds me of a mini Cirrus SR22; the way it looks and flies, I just love it."
Wozniak didn't teach professionally until age 58. "I learned to fly in a J3 Cub at 15, then a Cessna 172, a Bonanza, then got my CFII. I also fly Robertson R22 and R44 helicopters. The GX is so easy to fly; I have a primary student in his 60s, and a commercial pilot who took very little time to transition...and he's 86! LSA are opening up lots of adventure to older pilots who haven't flown in 10 years."
Lou Mancuso carries on the aviation tradition begun by his father in the mid-1940s with Mid Island Air Service of Long Island, N.Y. His son Mike is a celebrated air-show pilot. Mancuso is a 7,000-hour CFI who really groks the whole LSA thing.
His school uses LSA and GA aircraft. He has a SportCruiser, Remos GX and Cessna Skycatcher in his fleet, and several Cessna and Piper aircraft, so he gets day-to-day "schoolin'" in their relative merits.
A big boost to training is the Gleim Simulator, a three-screen, personal computer-based flight sim with LSA-specific modules that allows students to go through most lessons without a CFI needing to be present—a real cost cutter because CFI ground time costs money, too.
"The Gleim hasn't really caught on yet. Once people see what it can do, it will help revitalize aviation, too," Mancuso says. "It costs only $5,000; that's a pretty minimal acquisition cost compared to other simulators that start at $80,000, and also require a $10,000 service contract! And it's magnificent. I use it for shooting instrument approaches, too."
Page 1 of 2