Tuesday, September 7, 2010
Light-Sport Chronicles: Little Airports
Green fields, blue skies, white clouds—LSA heaven, here I come!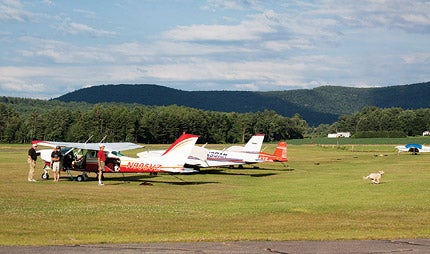 COUNTRY RUNWAYS. Rural airfields like Great Barrington retain a nostalgic feel.
Behold the home of the $100 hamburger, the remnants of a life gone by, when linen-covered, nitrate-doped biplanes landed in potato fields and took small-town kids for rides on balmy summer days. The kind of place where almost anybody who even considers flying an LSA wants to land at some point in their flying life, no matter how skilled and schooled in urban aviation they may be.
Country airports are where we go to kick back, to engage in the pure pleasure of stick-and-rudder aviating, to leave behind crowded landing patterns with faster airplanes closing in to gobble up our tail feathers.
Great Barrington Airport (GBR) in Massachusetts, 30 minutes from my rural digs in upstate New York, is a classic rural airfield. Country runways, grass strips and barely improved meadows thrive up here. Some have crumbling asphalt tarmacs lined with tall trees on three sides—or four! Some are citified airports with all the amenities. But there's plenty of down-home flying over the rolling farmland and low, gentle mountains of the northeast.
During America's colonial and industrial periods, this fecund landscape was almost entirely denuded of trees in the rush to plant haying fields for millions of horses and to construct houses, town halls, barns and cities. When the nation-building tide moved westward, it left behind this decidedly seasonal, eye-filling pastoral environment that, once you let into your soul, evokes a simpler time.
Great Barrington Airport, known by locals as Walter J. Koladza Airport, is nestled next to the town it's named after, a lively cultural mecca just east of the New York-Massachusetts border.
Walter Koladza was a flight instructor who could not pass the Navy flight physical in WWII. He found another way to support the war effort: as a vitally important test pilot on the Navy's immortal Chance Vought F4U Corsair fighter, a job that landed him in Long Island Sound not once, but twice.
At GBR, you lift off from the 2,585-foot paved strip—or from the parallel grass runway used for taildraggers like the Piper J3—and climb into a kinder sky.
Cruising over these green, green hills of summer; easing down, window open, through a fall river valley to skim the golden-leafed trees; skiing onto a white winter cornfield, bundled against the cold; setting up short final in brisk and bumpy spring winds above the lush forested ridge east of the strip, aviation lore spreads regally before you.
The airport's variety of hangar styles dot a broad green acreage in a most pleasingly random way. My mother read a book to me as a child called
The Little Pilot
. I loved the pictures. The country airport that smiling little guy flew into looked just like Great Barrington.
You touch down, taxi over to the grass tiedown area, then walk inside the rustic office, dodging airplane models hanging from the ceiling, for a chat with the friendly locals. About the only thing missing from the idyllic scene is a cafe—and that's coming soon.
Page 1 of 2