Tuesday, April 9, 2013
Light-Sport Chronicles: Mike Z And The Harbingers Of Doom!
For those eager pessimists proclaiming LSA on life support, a rebuttal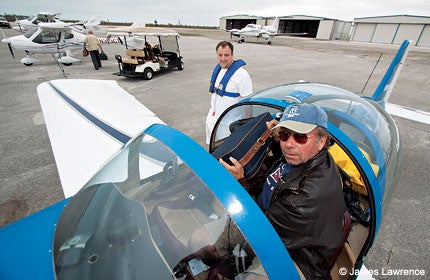 Mike Zidziunas rounds up the gear in his Breezer II S-LSA after landing at Grand Bahama International Airport on the final day of Sebring 2013. In the background is Jacob Peed, Director of Aviators Hotline. Peed and Mike Z each flew over in Breezers.
A leading aviation magazine recently ran a story that proclaimed the LSA industry as a "segment in critical condition." Don't hand Mike Z (for Zidziunas) any of
that
malarkey! Zidziunas is a man with a clear and ardent vision: Light-sport flying shouldn't be thought of as just another way to feed the airline and commercial pilot production mill. It has tons more going for it than that.
His experience-honed perspective on LSA flying is well informed. As owner and head honcho of Breezer Aircraft USA, newly moved from Plant City, Fla., to nearby Lakeland where Sun 'n Fun takes place, he knows just how vibrant an LSA business can be. He got one of the very first sport-pilot CFI tickets in 2005, and since then has parlayed his deep commitment to recreational flying into a shining example of how to make LSA flight work.
To date, Zidziunas has personally logged more than 3,000 hours in LSA and taught more than 40 people to fly. Even more impressive about his flight school is his student attrition rate: a puny 4%. That's not a misprint, though you'd be excused for thinking so—the dropout rate for general aviation flight schools is often 70% and higher!
"And of my students who got their first pilot's license after 50," he says, "a third have gone on to get the private. I also have 14 high-school students and six guys over 60 who are learning to fly. Out of all that, we have a 96% completion rate for the sport-pilot license. Everyone has joined EAA and AOPA. Collectively over just the past two years, they have flown more than 500 Young Eagle flights. Two of my young students alone have flown 20 Young Eagle missions."
So, when he hears those naysayers proclaim LSA is on life support because it hasn't brought the industry a flood of cheap airplanes and hordes of new pilots, he counters with this: "LSA isn't dead. Sure, it's flat in terms of total aircraft sales in this economy, but it's certainly less flat than GA in terms of new piston sales. LSA is outselling everything.
"And unlike the Part 41 schools who depend on foreign students to survive, my students and graduates are staying here in the U.S. and helping the industry grow," Zidziunas continues.
Page 1 of 3