Tuesday, January 27, 2009
Light-Sport Chronicles: Questions! So Many Questions!
The sport pilot rule is clear and easy to understand...except when it isn't. Let's dig a little deeper.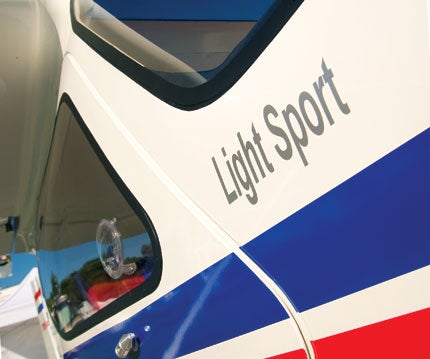 Light-sport flying. Designed to make flying more accessible to would-be pilots, the sport pilot rule has also perplexed many a person.
The sport pilot rule under which LSA pilots fly was intended to cover a broad array of recreational vehicles and conditions, gently wrapped within a beneficent, safety-minded envelope of permissions and restrictions.
But as with any reg.gov, there are opportunities for confusion. Herewith are 10 frequently asked questions (plus a bonus) that will help you fully understand just what being a sport pilot means.
1)
The only medical qualification required for the sport pilot license is a valid, current driver's license or a third-class FAA medical. Can you fly with a flight medical–disqualifying health issue if it's not restricted for the driver's license?
Nothing like starting off with the catch-22 of the sport pilot rule. Imagine two 30-year-old men; both have recently come down with diabetes. The first, a rated private pilot, just failed his flight medical. Because diabetes is incurable, he'll never again be able to pass an FAA flight medical exam and will, therefore, never qualify for a sport pilot certificate.
The second man has never been rated as a pilot and has never taken a flight medical. Here's where the catch comes in: Because diabetes is
not
grounds for disqualification for a driver's license, he
will
be able to get a sport pilot license, even though he has the exact same disease as the first pilot.
Many rated pilots, especially those approaching or enjoying their senior years, have wisely let their flight medicals expire before the next exam, to make sure they're never disqualified. Crafty boomers, they. But someone like our first pilot is flat out of luck. Although he's just as capable of flying safely as the second pilot, the FAA says he can't do it legally.
In an FAQ put out by the FAA, the question was dealt with this way: "Consult your private physician to determine whether you have a medical deficiency that would interfere with the safe performance of sport piloting duties. You may exercise sport pilot privileges provided you are in good health, your medical condition is under control, you adhere to your physician's recommended treatment and you feel satisfied that you are able to conduct safe flight operations."
Unless, of course, you've ever been denied an FAA medical. Yes, it's a bit of a dodge, but it does make an important point: Even if you're in generally tip-top shape, it's always your responsibility to make sure you don't fly if you're ever unable to do so safely, no matter what the cause.
But the ruling, in essence unfair and, one could even argue, unconstitutional, discriminates against the first pilot by not affording him the same rights as the second, based solely on a technicality: a flight medical of record that disqualified him for diabetes.
The buzz is that the FAA is working on a solution to this dilemma, but nothing substantive has come through the mill yet. Stay tuned.
Page 1 of 2