Tuesday, June 7, 2011
Light-Sport Chronicles: The "Stork" Flies Again
Come fly this head-turning replica of a unique, notorious German warbird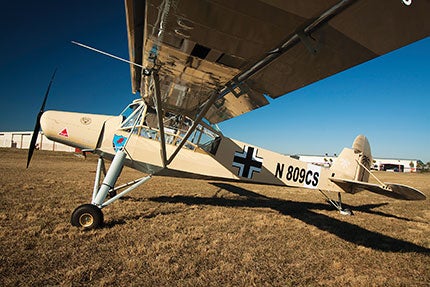 HISTORIC LSA.

The Criquet Storch is a 75% replica of the WWII plane that once rescued Mussolini.
Weird, cool, authentic, bizarre, eccentric, spectacular: so begins my Adjective Hit Parade to describe the Criquet Storch. This beautiful 75% replica of the infamous World War II liaison plane draws crowds wherever it goes.
Perhaps the most notorious exploit of the original World War II Fieseler Fi 156 Storch was its daring rescue in 1943 of dictator Benito Mussolini from a ski lodge—atop a 6,500-foot peak! The ungainly bird plopped down on a boulder-strewn patch in under 100 feet—at that altitude!—then spirited Il Duce away, ripping off a gear leg in the process.
"Storch" is German for stork. One look at that tall, spidery gear tells you why. The Fi 156 was one honking super-STOL machine that could launch in under 200 feet, land as slow as 25 mph, and stop in 50 feet! Nearly 3,000 were manufactured. Our closest equivalent: the L-4 Grasshopper.
Flash-forward now to Sebring's 2011 LSA Expo, and the crowd-drawing, sandy-colored, Afrika Corps-bedecked replica of that legendary example of German engineering. ASTM certified as S-LSA #113, this is an airplane for lovers of aviation lore, who are just as happy spending ramp time jawing about this special creature as flying it.
Dennis Clarey, head of U-Fly-It Light Sport Aircraft, imports components of the Colombian-built plane for assembly, test flying, certification and sales at his DeLand, Fla., location. U-Fly-It also mounts a sport-pilot and ultra-light sales and training operation.
The features that most catch your eye also bestow amazing slow-flight characteristics: leading-edge fixed slats and a trailing-edge slotted flap that, interconnected with the ailerons, creates a full-span barn door for true mega-STOL chops. But the real eye grabber is that long, Watusi-tall main gear, an oil-and-spring shock absorber affair that soaks up truly inhospitable terrain like a dune buggy.
Climbing aboard, you feel like a stork: all knees and elbows. Once in place, (solo is from the front seat), the tandem cockpit feels plenty roomy at 28 inches, thanks to the angled-out windows on both sides. Bug-eye-like faceted windows bring an airy, all-around greenhouse visibility. The lower side windows give views straight down, recalling the original Fi 156's surveillance mission.
Ready to go, my demo pilot Tom Flesher says, "Okey dokey," and away we taxi in Storch 809CS. Taildragger ground ops even with the high deck angle aren't difficult, thanks to all those windows. Dual controls and brakes front and back make for a good trainer mission. Toeing the floor heel pedals, advises Flesher, works best because rudder isn't very effective until liftoff anyway.
Cleared by tower, we cob the Rotax 912S throttle, and in mere seconds, fairly float off the ground. The chrome-moly welded-steel airframe transmits a fair amount of vibration at full power. It's breezy today, and the big 172-square-foot wing (a Cessna Skycatcher by comparison has 120 square feet!) lets you feel it, but lateral control is light enough and responsive. The basic control personality is firm; not fighter-like, but considering all those squares and the 35-foot span, it handles just fine.
Here's a second opinion: Steven Lund, a 9,500-hour pilot with a fascination for the Fieseler Storch since he was a teenager (he's 62), owns one. He finds the Criquet Storch "flies better than the full-size machine...the control forces are quite light, and its control response is great throughout the whole flight regime. I get short takeoffs of less than 100 feet at the near-sea-level airfields we have here in Southern California, and landing rolls of similar distance. In addition, I have found it to be stable and relaxing to fly on cross-country flights."
Page 1 of 2